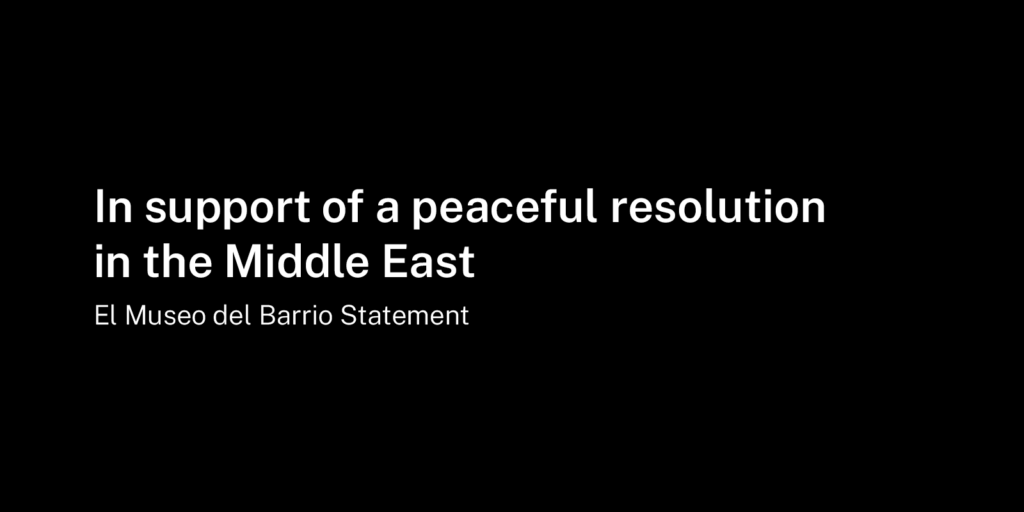 In support of a peaceful resolution in the Middle East - El Museo del Barrio Statement
Familia,
Recently, we have witnessed horrific violence and loss of life in Israel and Gaza, impacting communities in the Middle East, the United States, Latin America, and throughout the world. Aligned with the Museum's core values, El Museo del Barrio supports and upholds human rights, and the peaceful resolution of this conflict.
During these fraught times, we continue to host visitors and artists of diverse and differing beliefs and viewpoints through our doors. El Museo del Barrio is, and will remain, a cultural institution for all members of our community regardless of gender, political convictions, cultural identity, sexual orientation, and religious beliefs.
Our sympathies go out to those who are directly, or indirectly by way of diaspora or heritage, affected by the conflict. We encourage museum visitors to donate to a trusted charity of their choice dedicated to those most affected during this difficult time.
We urge our world leaders to present a resolution to this conflict so that human rights and dignity can be preserved.
Thank you for your support,
Patrick Charpenel