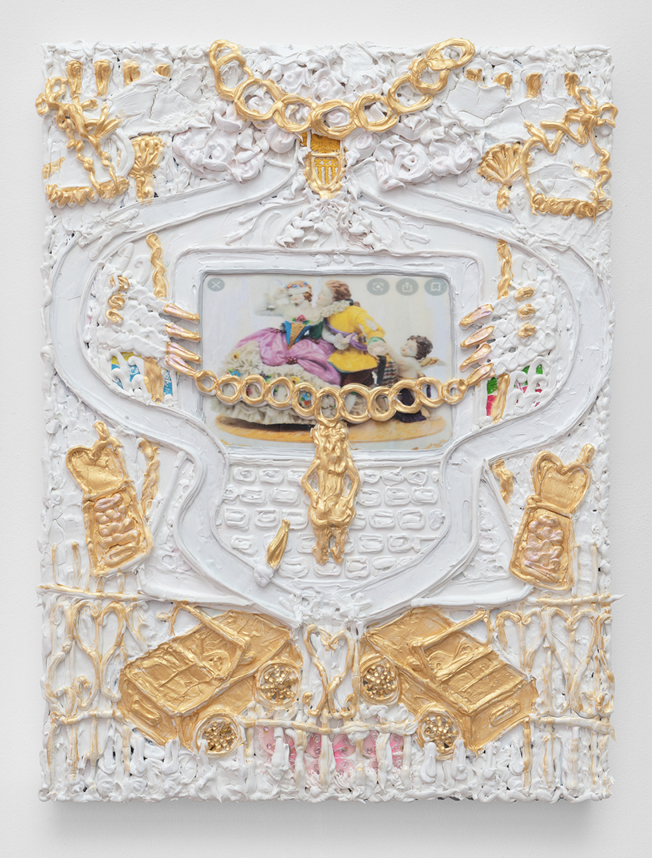 b. 1991, Silvis and raised in Moline, IL; lives and works in Chicago, IL
Yvette Mayorga is a painter and sculptor whose practice is influenced by 18th-century Rococo art and pastry techniques. Inspired by the Mexican bakeries in the Pilsen neighborhood of Chicago where she lives and works, Mayorga developed a distinctive painterly process that mimics the icing designs employed on cakes by using baking piping bags to apply paint toher canvas. She connects this sugary practice with a Rococo aesthetic, which is characterized by its exaggeratedly ornamental decoration, swooping curves, and saccharine scenes that are most often executed in pastel hues. Mayorga updates this three hundred centuries-old style into the present by turning to iconic 1990s-era toys, beauty products, and commodities, ranging from G.I. Joe figurines and Polly Pocket houses to smiley faces and acrylic nails. Topics such as policing, immigration, and in particular, the threats faced by migrant communities from ICE, are explored in the four-panel painting The Processsion, an image of isolation and consumption that the artist created while under quarantine during the pandemic.
Yvette Mayorga es una pintora y escultora cuya práctica está influenciada por el estilo rococó del siglo XVIII y las técnicas de pastelería. Inspirada por las panaderías mexicanas del barrio de Pilsen, en Chicago, donde vive y trabaja, Mayorga ha desarrollado un proceso pictórico distintivo que imitan los diseños de glaseado empleados en los pasteles, utilizando mangas pasteleras para aplicar pintura sobre sus lienzos. La artista conecta esta práctica dulce con la estética rococó, que se caracteriza por su decoración exageradamente ornamental, sus curvas descendentes y sus escenas acarameladas que suelen ejecutarse en tonos pastel. Mayorga pone al día este estilo tricentenario al recurrir a juguetes, productos de belleza y iconos de la década de 1990, que van desde las figuritas de G.I. Joe y las casitas de Polly Pocket, hasta las caritas sonrientes y las uñas de acrílico. El cuadro La procesión explora en sus cuatro paneles temas como la vigilancia policial, la inmigración y, en particular, las amenazas a las que se enfrentan las comunidades de inmigrantes por parte del Servicio de Control de Inmigración y Aduanas (ICE). La obra es una imagen de aislamiento y consumo que la artista creó mientras estaba en cuarentena durante la pandemia.