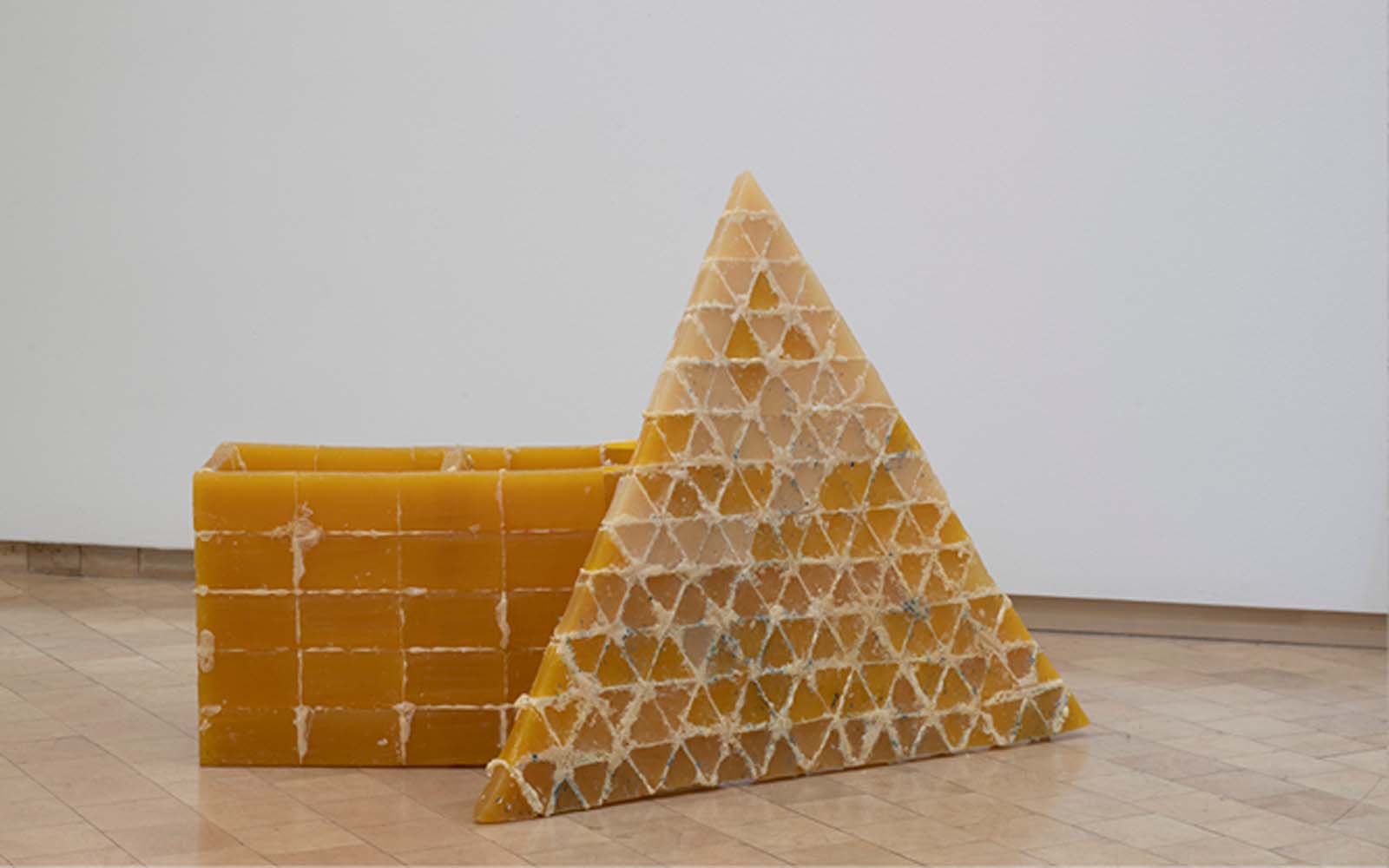 b. 1975, Brooklyn, New York; lives and works in Miami, Florida
Yanira Collado builds objects in a blurred zone between painting and sculpture. Her work challenges the limits of bi-dimensionality and tri-dimensionality by using procedures such as juxtaposition, overlaying, and the literal balancing of disparate materials like fabrics, paper, soap, wood, concrete, and drywall. Herlarger piece presented in this gallery leans against the wall and represents the artist's ongoing interest in sacred geometries, the symbolic value of labor, and the history of natural disasters in the Caribbean region. With constructive aplomb, the cuaba soap sculptures allude to spirituality and diasporic narratives. These works relate to broader art histories, flirting with the aesthetics of post-Minimalism and Arte Povera while also referring to the matrix of African American quilts and other handmade practices historically considered women's work or craft.
Yanira Collado construye objetos que se encuentran en una zona difusa entre la pintura y la escultura. Su obra desafía los límites de la bidimensionalidad y la tridimensionalidad al utilizar procedimientos como la yuxtaposición, la superposición y el equilibrio literal de materiales diversos como telas, papel, jabón, madera, hormigón y placa de yeso. Su pieza más grande presentada en esta galería se apoya en la pared y demuestra el interés continuo de la artista por las geometrías sagradas, el valor simbólico del trabajo y la historia de los desastres naturales en la región del Caribe. Con aplomo constructivo, las esculturas de jabón de cuaba aluden a la espiritualidad y a las narrativas diaspóricas. Estas obras se relacionan con historias artísticas más amplias, coqueteando con la estética del posminimalismo y el arte povera, al mismo tiempo que hacen referencia a la matriz de los quilts afroamericanos y a otras prácticas hechas a mano que históricamente se han considerado trabajo de mujeres o artesanía.