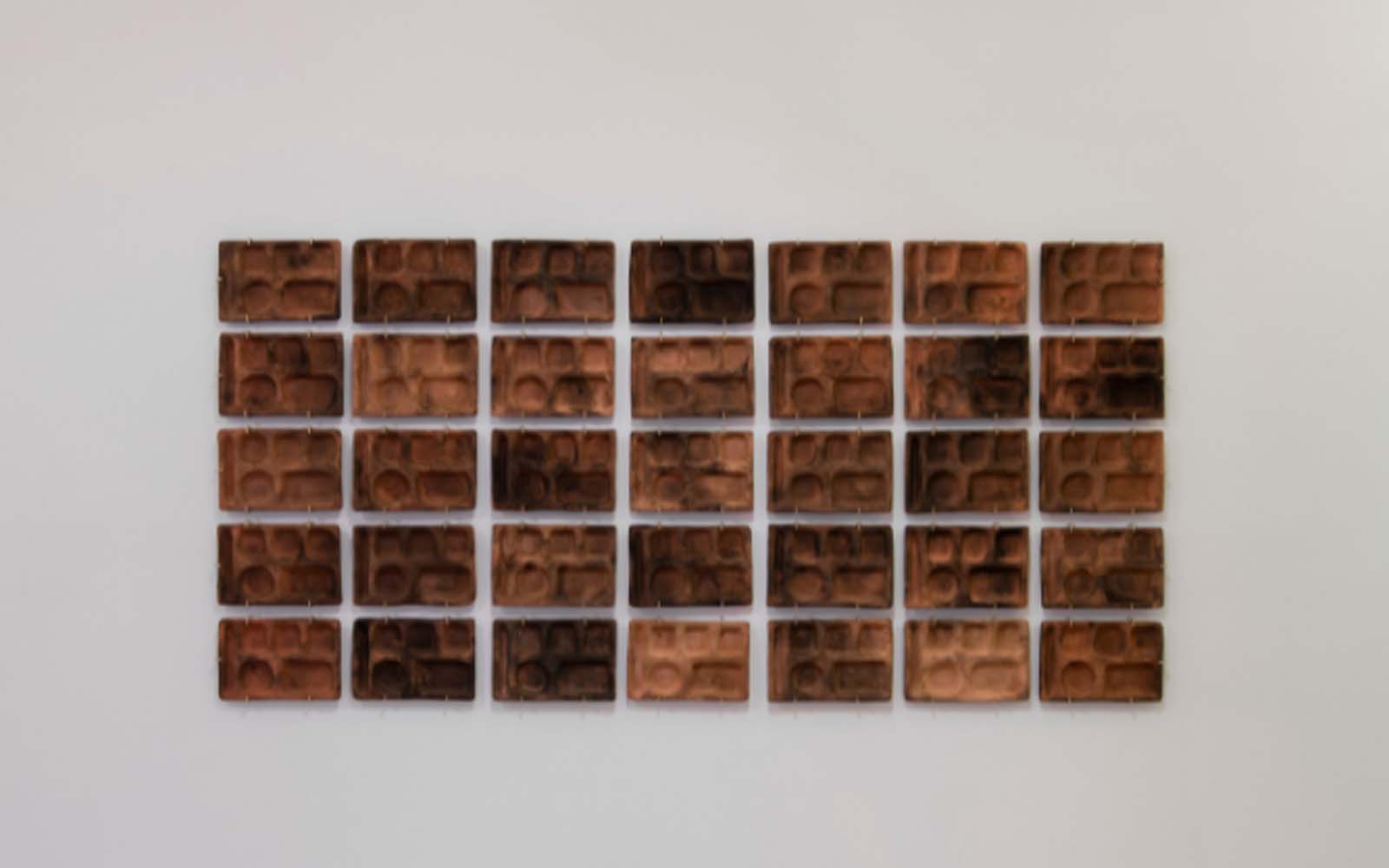 b. 1979, El Paso, TX; lives and works in Northampton, MA
Vick Quezada is an interdisciplinary artist who works across media, including sculpture, video, and installation. Their work explores hybridized forms through an approach that is rooted in queer and Indigenous knowledge, histories, and aesthetics.Tabled Remains takes the form of typical cafeteria trays used in schools, prisons, hospitals and other institutional settings whose functions are based on disciplinary systems. Linking this within larger narratives of settler colonialism, Quezada's clay trays deviate from the standard, mass-produced form. Each is hand-pressed into a mold, then kiln-and pit-fired to achieve a unique burnish. Exhibited at El Museo in the form of a grid and stacked upon a cart,Tabled Remains also engages with serial forms used by Minimalist artists, while subverting their use of industrial materials. Made from clay, the materiality of Tabled Remains links the piece to the earth, invoking issues of land rights, ecology, and interconnectedness.




Vick Quezada es un artista interdisciplinario que trabaja con diferentes medios, incluyendo la escultura, el video y la instalación. Su trabajo explora formas híbridas a través de un enfoque que tiene sus raíces en el conocimiento, las historias y la estética queer e indígena. Tabled Remains (Restos de mesa) adopta la forma de las típicas bandejas de cafetería utilizadas en escuelas, prisiones, hospitales y otros entornos institucionales cuyas funciones se basan en sistemas disciplinarios. Las bandejas de arcilla de Quezada se desvían de la forma estándar producida en masa, y se relacionan con relatos más amplios sobre el colonialismo. Cada una de ellas es prensada a mano en un molde, y luego horneada y cocida al fuego para conseguir un bruñido único. Expuesta en El Museo en forma de cuadrícula y apilada sobre un carro de servicio, Restos de mesa también se relaciona con las formas producidas en serie y utilizadas por los artistas minimalistas, a la vez que subvierte su uso específico de materiales industriales. Hecha de arcilla, la materialidad de Restos tabulados vincula la pieza a la tierra, al invocar cuestiones de derechos de propiedad de terrenos, ecología e interconexión.