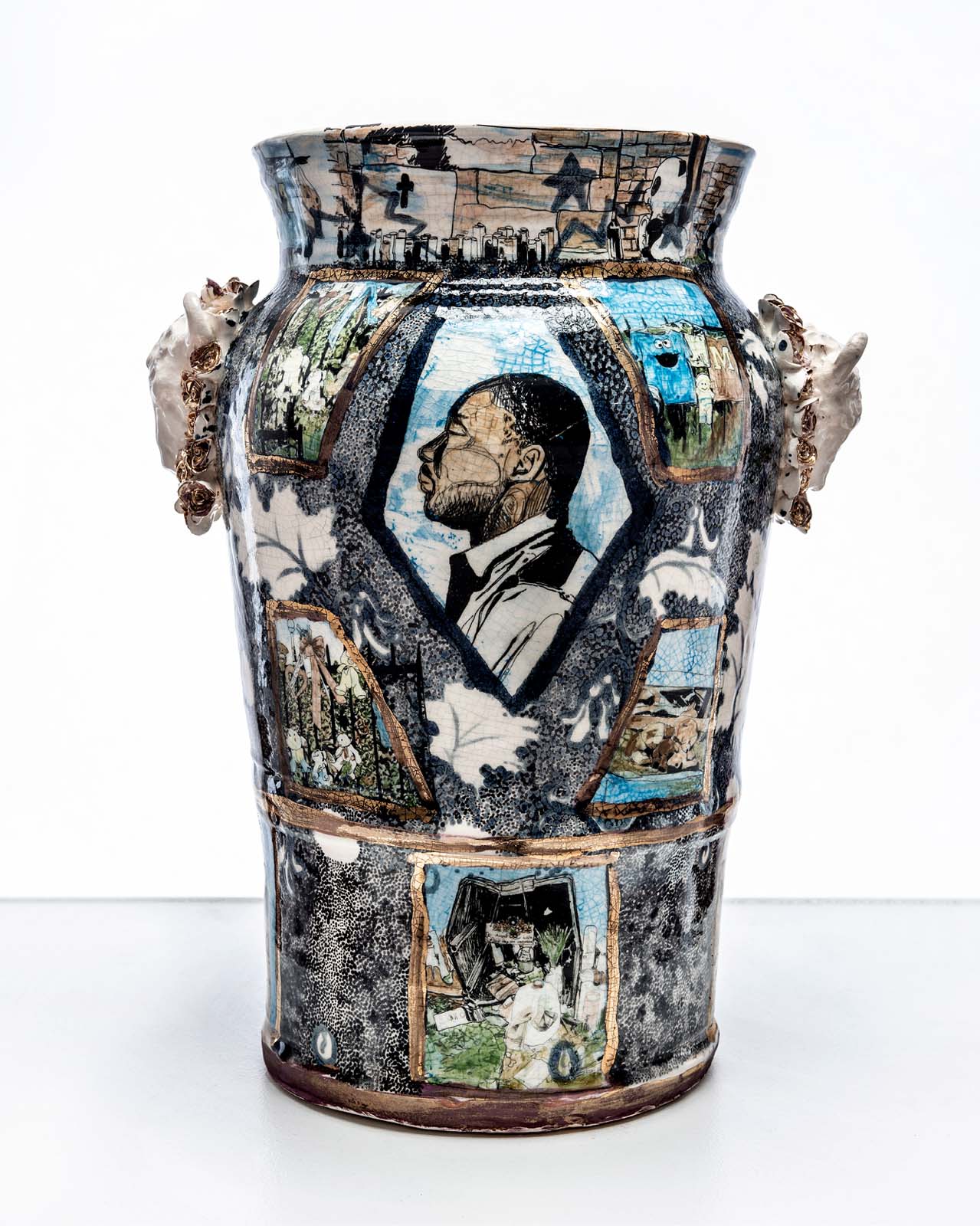 b. 1981, Philadelphia, PA; lives and works in Philadelphia, PA
Roberto Lugo is a potter, painter, and poet. Working in ceramic techniques historically associated with luxury and European aristocracy, he paints images of Civil Rights leaders, sports figures, hip-hop stars, art icons, and victims of police brutality onto classical vessel forms. By representing such figures on tea pots and urns, Lugo both memorializes and elevates them in a manner that in past centuries was reserved for royalty. A Century of Shrine is based on the American Century Vase and features gilded bison handles, images of teddy bears in reference to street memorials, as well as portraits of Dr. Martin Luther King Jr. and Malcolm X.Dr. King's, as well as Lugo's own visage, are additionally represented as part of the artist's Della Robske series, which in title and form is inspired by the artwork of the 15th-century Italian artist Luca della Robbia.
Roberto Lugo es alfarero, pintor y poeta. Trabajando con técnicas cerámicas históricamente asociadas al lujo y a la aristocracia europea, Lugo pinta imágenes de líderes de los derechos civiles, figuras del deporte, estrellas del hip hop, íconos del arte y víctimas de la brutalidad policial en formas de vasijas clásicas. Al representar a estas figuras en teteras y urnas, Lugo conmemora y eleva su honor de una manera que en siglos pasados era exclusivo para la realeza. Un siglo desantuariobasa su formato sobre el American Century Vase (jarrón del siglo americano), que cuenta con asas de bisonte doradas, imágenes de ositos de peluche en referencia a los monumentos callejeros, así como retratos del Dr. Martin Luther King, Jr. y Malcolm X. La serie Della Robske,que incluye representaciones del Dr. King, así como del propio Lugo, está inspirada tanto en título como forma en la obra del artista italiano del siglo XV Luca della Robbia.