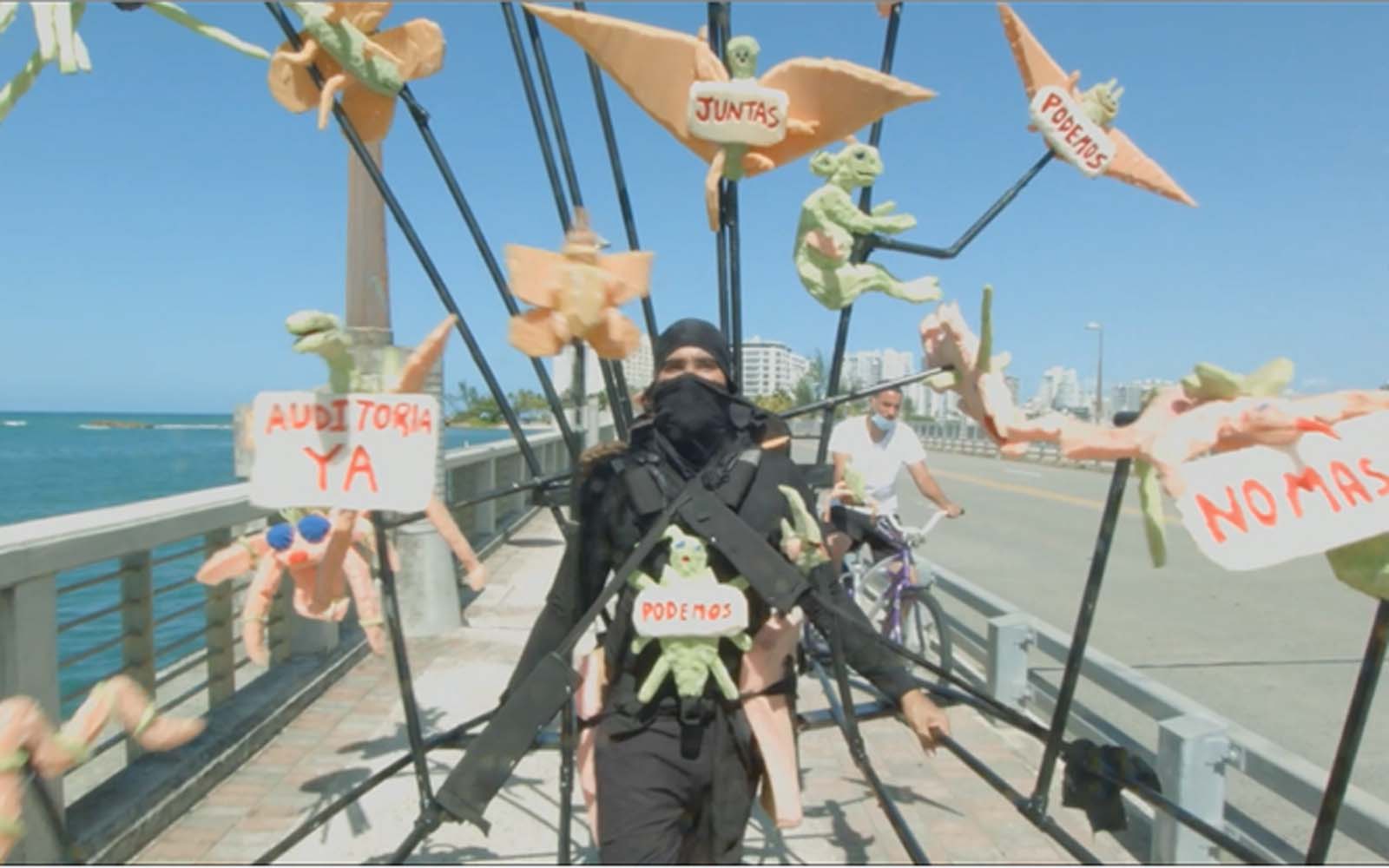 Based in San Juan, Puerto Rico
Poncili Creación is an art collective known for their fantastical and improvisational approach to puppetry and performance. Composed of identical twin brothers Pablo and Efrain Del Hierro, the duo describes its practice as a form of "speculative alchemy." Somxs Podemx first debuted in August 2020 as part of La Trienal's commissioned online artists' projects. The video documents a walking spectacle and durational performance in San Juan, Poncili Creación's hometown and where they remained in quarantine during the global pandemic. Wearing a structure that takes the form of a mass protest of placard-carrying puppets, Poncili Creación moves along the city's Avenida Ponce de León, passing through empty streets and gentrified neighborhoods,and stopping at abandoned schools and the capitol building. Attracting the participation of the public along the way, Somxs Podemx explores the power of the individual and the creative possibilities of protest.
Poncili Creación es un colectivo artístico conocido por la improvisación y el enfoque fantástico para abordar los títeres y la performance. Compuesto por los hermanos gemelos idénticos Pablo y Efraín Del Hierro, el dúo describe su práctica artística como una especie de "alquimia especulativa." Somxs Podemxs debutó por primera vez en agosto de 2020 como parte de los proyectos artísticos online comision ado por La Trienal. El video documenta una caminata-espectáculo y performance duradero en San Juan, sede de Poncili Creación y donde permanecieron en cuarentena durante la pandemia de coronavirus. Ataviados con una estructura que adopta la forma de una protesta masiva de títeres portando pancartas, Poncili Creación se desplaza por la Avenida Ponce de León de la ciudad, pasando por calles vacías y barrios gentrificados, y deteniéndose en escuela sabando nadas y en el edificio del Capitolio. Atrayendo la participación del público a lo largo del recorrido, Somxs Podemxs explora el poder del individuo y las posibilidades creativas de la protesta.