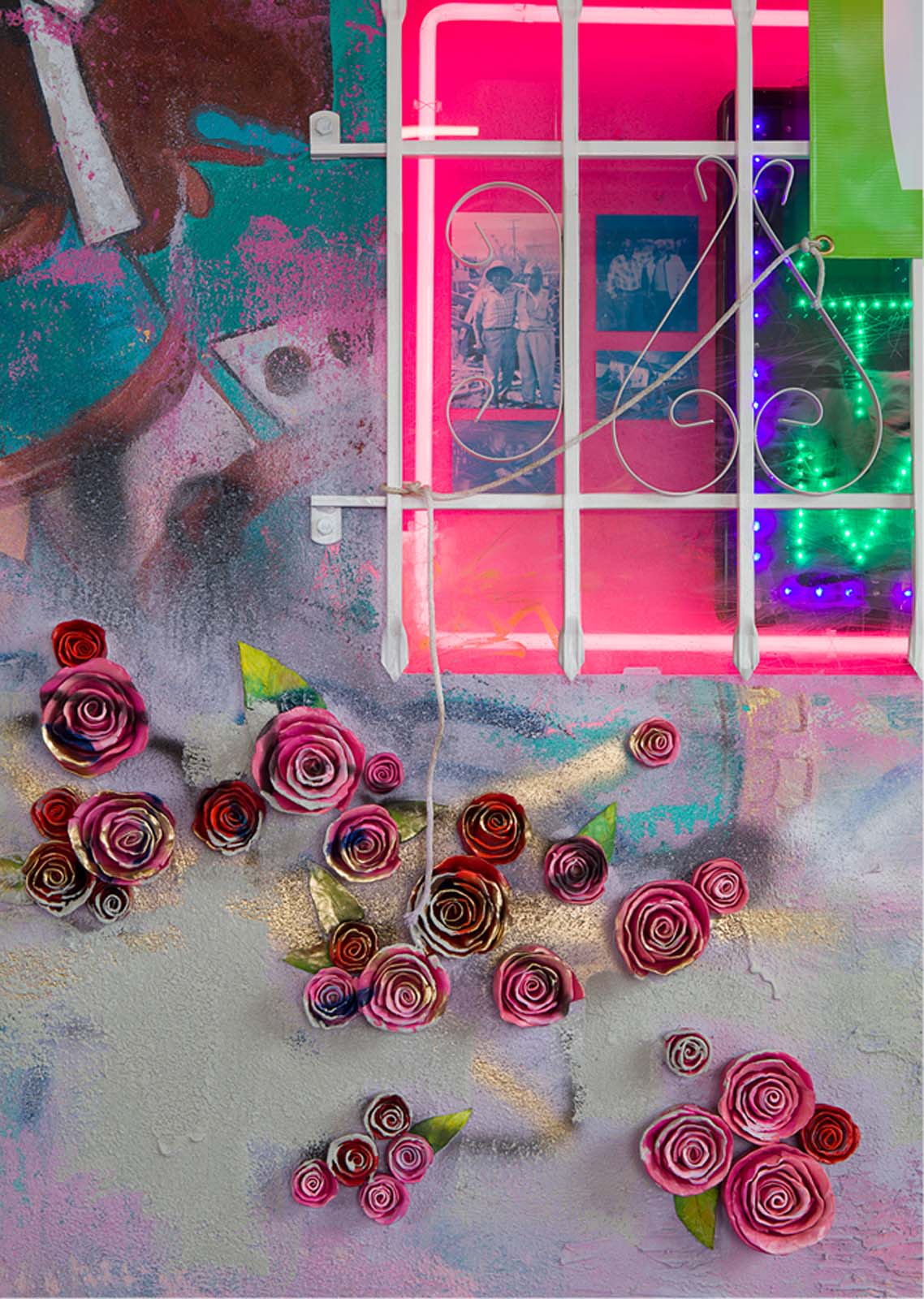 b. 1980, Pasadena, CA; lives and works in Los Angeles, CA
Patrick Martinez is a multidisciplinary artist whose practice explores subjects drawn from everyday life, ranging from personalized cakes and neon signs to Pee Chee school notebooks and city walls. His large-scale panel Defeat and Victory is from an ongoing series inspired by the urban landscape of Los Angeles. Simulating the colors and stucco texture of the city's architecture, the piece includes tiles and windows bars, as well as ceramic roses that evoke flower memorials. Layered on top one another as a visual palimpsest, other elements, such as traces of graffiti, fading community murals, and "For Lease" banners suggest the passage of time as well as the marks of gentrification. Defeat and Victory also bears direct reference to our contemporary moment, with images of a Lysol can and a corner store-inspired neon sign advertising masks.
Patrick Martinez es un artista multidisciplinar cuya práctica explora temas extraídos de la vida cotidiana, que van desde las tartas personalizadas y los letreros de neón, hasta los cuadernos escolares Pee Chee y los muros de la ciudad. Su panel a gran escala Defeat and Victory (Derrota y victoria) pertenece a una serie en curso inspirada en el paisaje urbano de Los Ángeles. Simulando los colores y la textura del estuco de la arquitectura de la ciudad, la obra incluye azulejos y barrotes de ventanas, así como rosas de cerámica que evocan los monumentos florales. Superpuestos como un palimpsesto visual, otros elementos como rastros de grafitis, murales comunitarios descoloridos y pancartas de "se alquila" sugieren el paso del tiempo y revelan marcas de gentrificación. Derrota y victoria también hace referencia directa al contexto contemporáneo de la pandemia, con imágenes de un bote de Lysol y un cartel de neón inspirado en una tienda de esquina que anuncia máscaras.