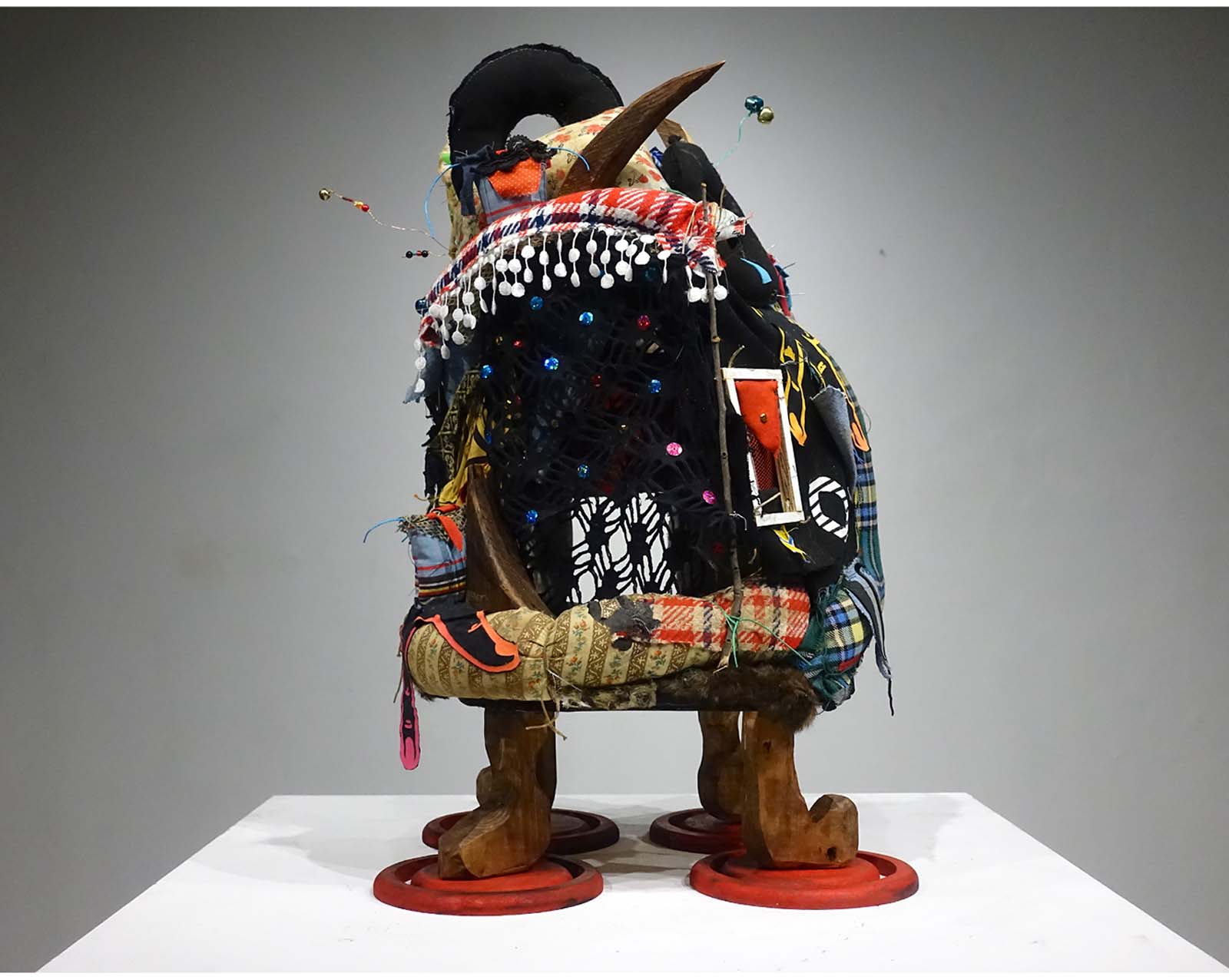 b. 1976, Jersey City, NJ; lives and works in Jersey City, NJ
Nyugen E. Smith is an artist and performer who explores the historical and contemporary conditions of the global African diaspora. Since 2005, he has been working on Bundlehouse, an expansive and multidisciplinary project that was first inspired by the architecture of refugee camps. Smith's BundlehouseFS Mini sculptures are composed of accumulated found objects and were born from the artist's practice of constructing larger, ephemeral structures. In addition to recalling temporary architecture, they also reference nkisi, powerful sculptural objects from Central Africa whose spirit is activated through a process of accretion. The banner-like Bundlehouse Borderlines No. 6 ( _emembe_ ) is from a larger series of paintings which explore both real and (re)imagined maps of the Caribbean islands. In the case of_emembe_,the image reflects the island of Ayti, modern-day Hispaniola, turned 90 degrees.
Nyugen E. Smith es un artista y performer que explora las condiciones históricas y contemporáneas de la diáspora africana global. Desde 2005, ha trabajado en Bundlehouse, un proyecto expansivo y multidisciplinario que inicialmente se inspiró en la arquitectura de los campos de refugiados. Las esculturas Bundlehouse FS Mini de Smith están compuestas de la acumulación de objetos encontrados, y nacieron de la práctica del artista de construir estructuras efímeras más grandes. Además de evocar a la arquitectura temporal, éstas también hacen referencia a los nkisi, poderosos objetos escultóricos de África Central cuyo espíritu se activa mediante un proceso de acumulación. La obra Bundlehouse Fronteras No. 6 ( _emembe_ ) pertenecen una serie más amplia de pinturas que exploran mapas reales y (re)imaginados de las islas del Caribe. En el caso de_emembe_, la imagen refleja la isla de Ayti, la actual La Española, con un giro de 90 grados.