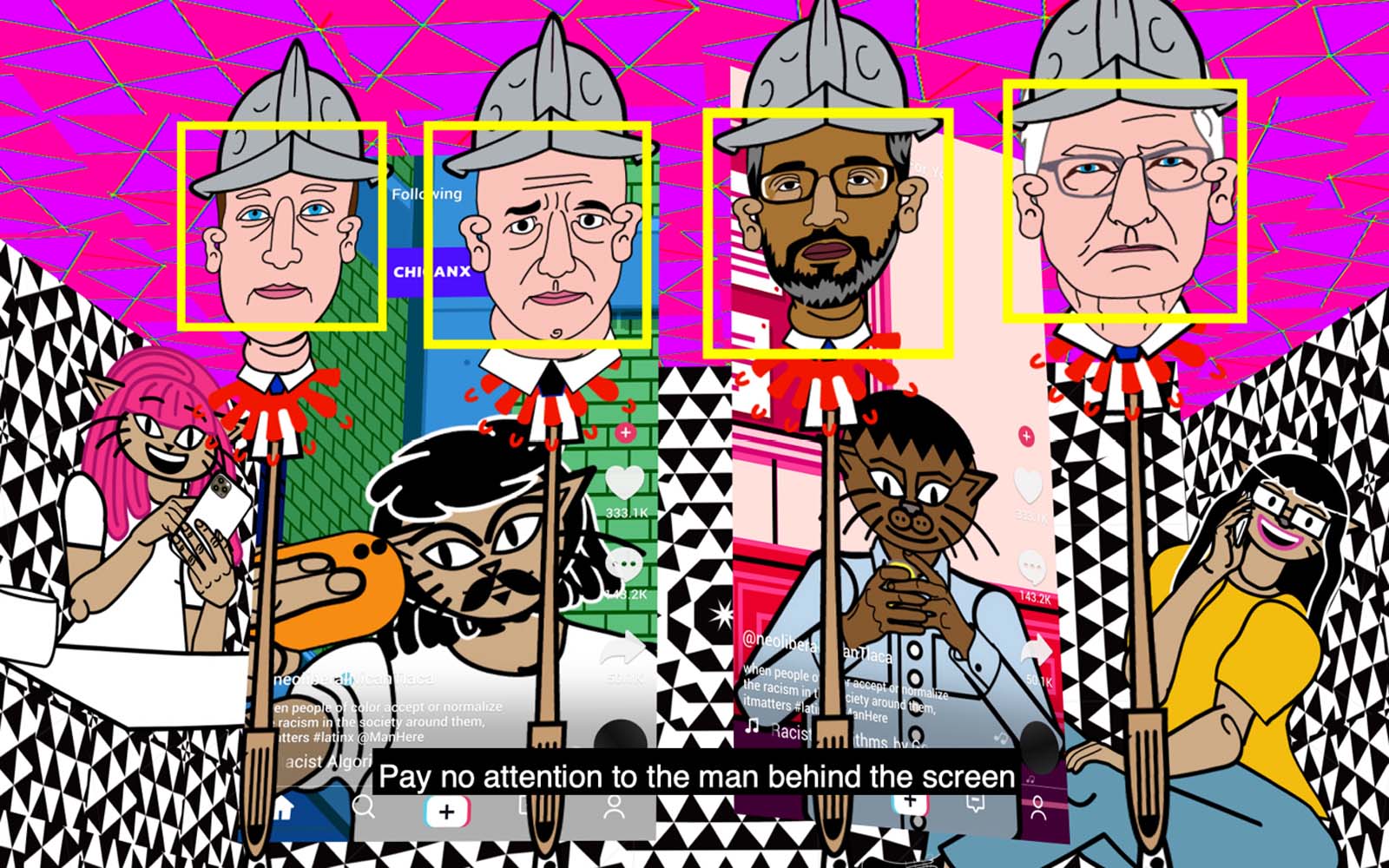 b. 1985, San Antonio, TX; lives and works in San Antonio, TX
Michael Menchaca is a multimedia artist whose background in printmaking influences his complex multi-screen video animations, immersive installations, graphic portfolios, and public murals. Updating a long tradition of Chicano art for the 21st century, Menchaca's work mixes references as disparate as Meso american codices, medieval European bestiaries, and the language of arcade video games. For La Trienal, he is premiering A Cage Without Borders, a vertiginous exploration on how American big-tech companies marginalize Black and Brown communities and reinforce racial inequities through the use of biased algorithms. Borrowed from an essay by filmmaker Hito Steyerl, the title of the work references a continuous state of social surveillance. Menchaca was also one of the artists commissioned by La Trienal to create an online project, which was presented as a virtual, looping version of his video installation The Wall. The project focuses on the former president's campaign promise to build a wall on the border between Mexico and the United States. For more about The Wall, please visit: http://heisthewall.com.
Michael Menchaca es un artista multimedia cuya formación como grabador influye en sus complejas animaciones de vídeo multipantalla, instalaciones inmersivas, portafolios gráficos y murales públicos. Actualizando una larga tradición de arte chicano parael siglo XXI, la obra de Menchaca mezcla referencias tan distintos como los códices mesoamericanos, los bestiarios europeos medievales y el lenguaje de los videojuegos arcade. Para Estamos Bien, el artista estrena A Cage Without Borders (Una jaula sinfronteras), una vertiginosa exploración sobre cómo las grandes empresas tecnológicas estadounidenses marginan a las comunidades negras y morenas y refuerzan las desigualdades raciales mediante el uso de algoritmos segregados. Tomado de un ensayo de la cineasta Hito Steyerl, el título de la obra hace referencia a un estado continuo de vigilancia social. Menchaca fue también uno de los artistas a los que La Trienal comisionó la creación de un proyecto online,que se presentó como una versión virtual y en loop de su videoinstalación The Wall (El muro). El proyecto se centra en la promesa electoral del expresidente de construir un muro en la frontera entre México y Estados Unidos. Para más información sobre El muro, visite: http://heisthewall.com.