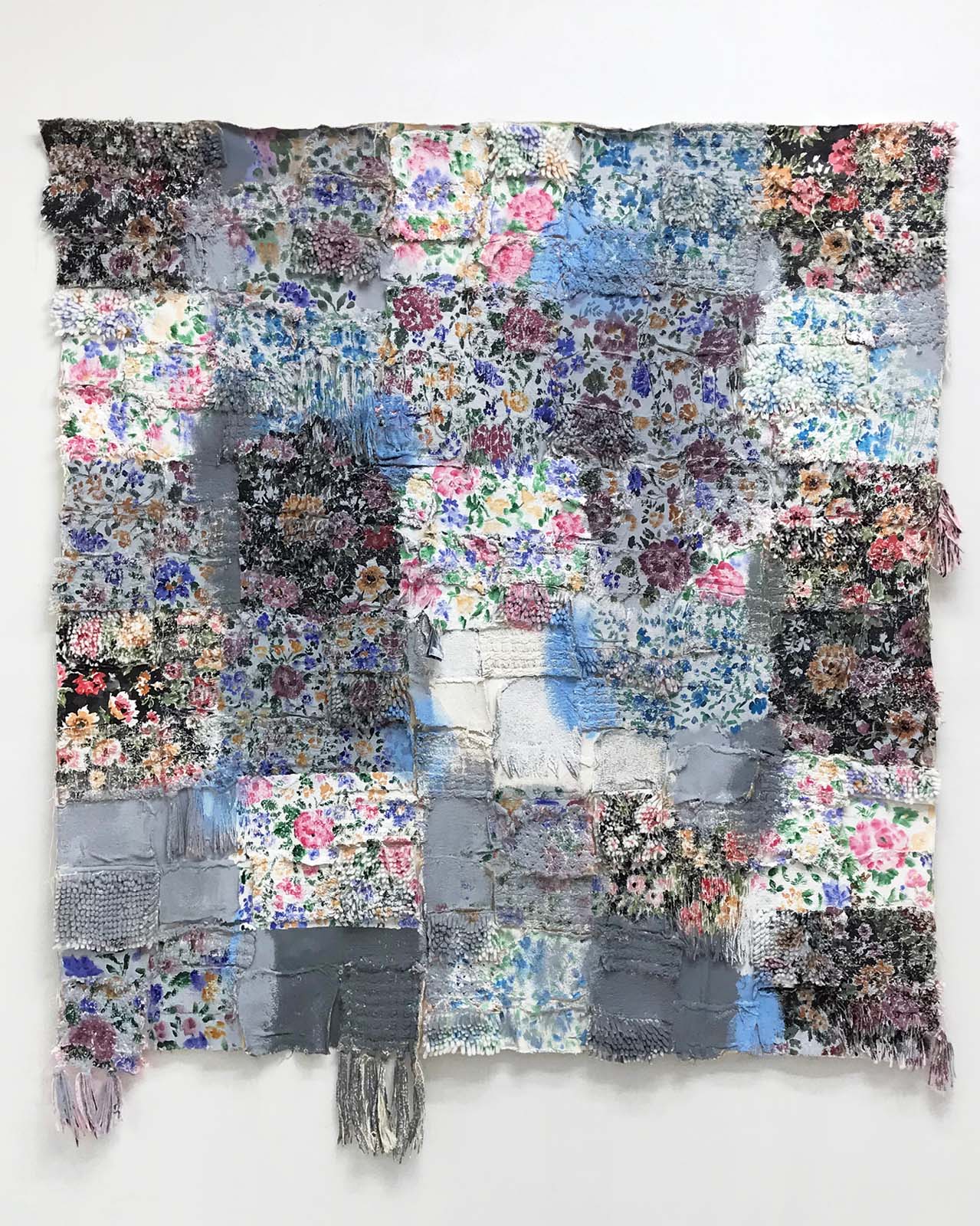 b. 1983, Miami, FL; raised in Medellín, Colombia; lives and works in New York, NY
Manuela González is an artist who works at the intersection of painting, collage, sculpture, and textile. Her practice is influenced by domestic environments and activities traditionally associated with women's work, like sewing, interrogated through the lens of abstraction, a mode of art that until recently has primarily been associated with (white) male artists.The works presented here use cloths and textiles as their material basis and range from blankets and sheets to towels and bathmats. These household linens are interwoven through a quilt-like process and used as canvas. The compositions frequently follow a grid structure, the modernist device associated with such lauded abstractionists as Joaquín Torres-García and Piet Mondrian. By combining art historical traditions with the type of craft practices made by women in her family, Gonzalez's paintings serve to question the validity of such gender and genre hierarchies.
Manuela González es una artista que trabaja en la intersección de la pintura, el collage, la escultura y el textil. Su práctica está influenciada por los entornos domésticos y las actividades tradicionalmente asociadas con el trabajo femenino como la costura, pero vista a través del lente de la abstracción, un estilo de arte que hasta hace poco se asociaba principalmente con artistas hombres blancos. Las obras presentadas aquí están hechas de telas y tejidos, y usan materiales desde sábanas y mantas para la cama, hasta toallas y tapetes de baño. Estas prendas domésticas se entretejen mediante un proceso similar al de las colchas y se utilizan como lienzos. Las composiciones frecuentemente se apegan a una estructura cuadriculada, un recurso modernista asociado con abstraccionistas célebres como Joaquín Torres-García y Piet Mondrian. Al combinar las tradiciones históricas del arte con el tipo de prácticas artesanales realizadas por las mujeres de su familia, los cuadros de González cuestionan la validez de las jerarquías de género, tanto en términos artísticos y de identidad.