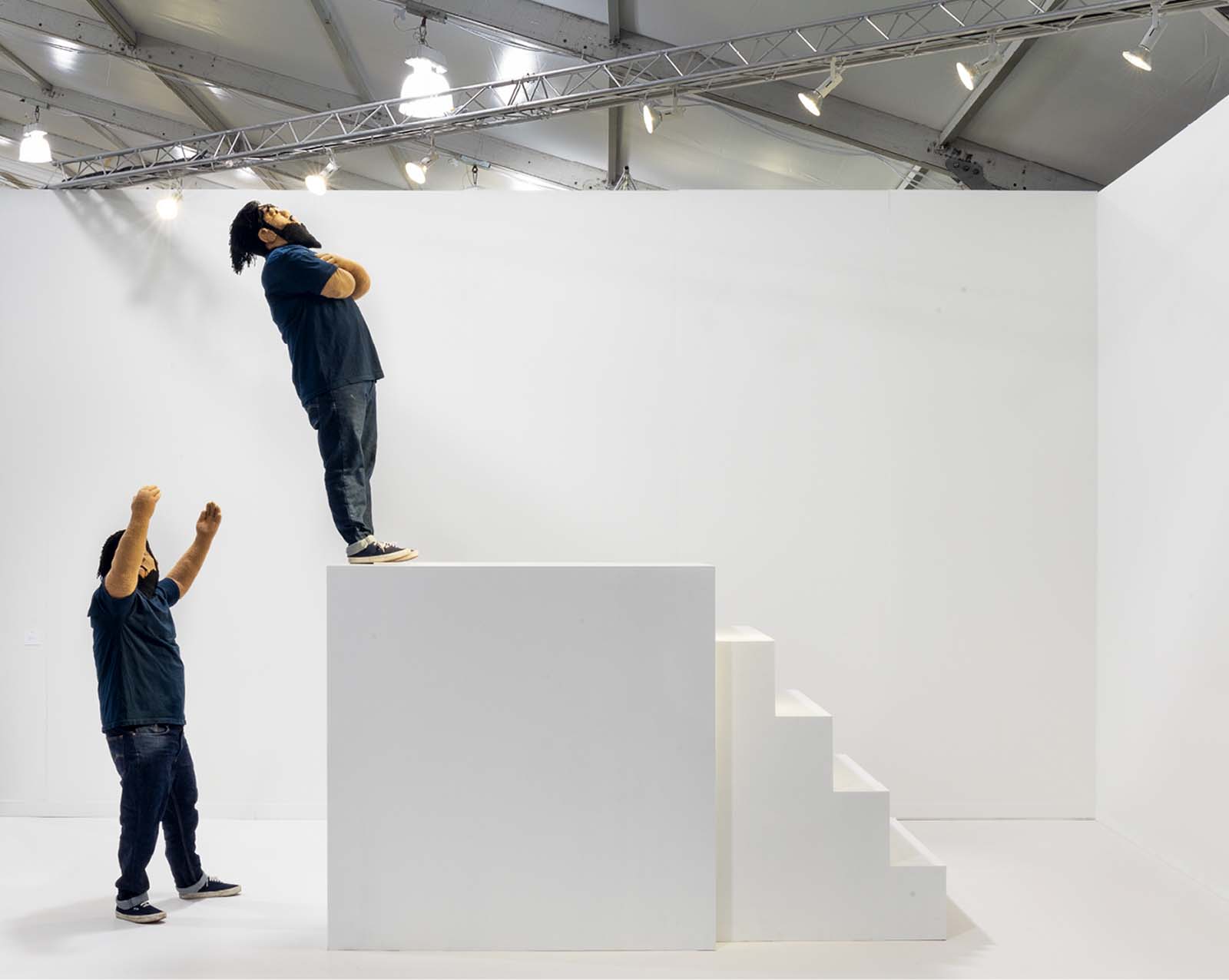 b. 1985, West Covina, California; lives and works in Los Angeles, California
Recognized for his hand-crocheted, life-sized "doppelgängers," Luis Flores's figures are mirror images of the artist, whose skins are made from crocheted yarn and dressed with basic streetwear. These figures are presented in poses that prod at the concepts of masculinity and femininity, especially in connection to the artist's own family. Flores is self-taught in the art of crochet, though he was exposed to the craft as a child by his mother. Through his figures, he investigates how human history repeats itself, from monumental events to small personal and familial acts, illuminating how patriarchal patterns remain unbroken. Created for La Trienal, Estamos Bien? takes on the exhibition's title to propose a multi-figure scene full of meanings and ambiguities.
Reconocido por sus "doppelgängers" (dobles fantasmales) de tamaño natural hechas a mano en crochet, las figuras de Luis Flores son imágenes especulares del artista vestidas con ropa básica urbana y cuyas pieles están hechas de hilo tejido. Estas figuras asumen posturas que cuestionan los conceptos de masculinidad y feminidad,especialmente en relación con la propia familia del artista. Flores es autodidacta en el arte del tejido, aunque conoció el oficio de niño a través de su madre. Con sus figuras, Flores investiga cómo se repite la historia de la humanidad, desde los acontecimientos monumentales hasta los pequeños actos personales y familiares, y revela cómo los patrones patriarcales permanecen intactos. Creado para La Trienal, Estamos Bien? toma el título de la exposición, para proponer una escena multi-figural llena de significados y ambigüedades.