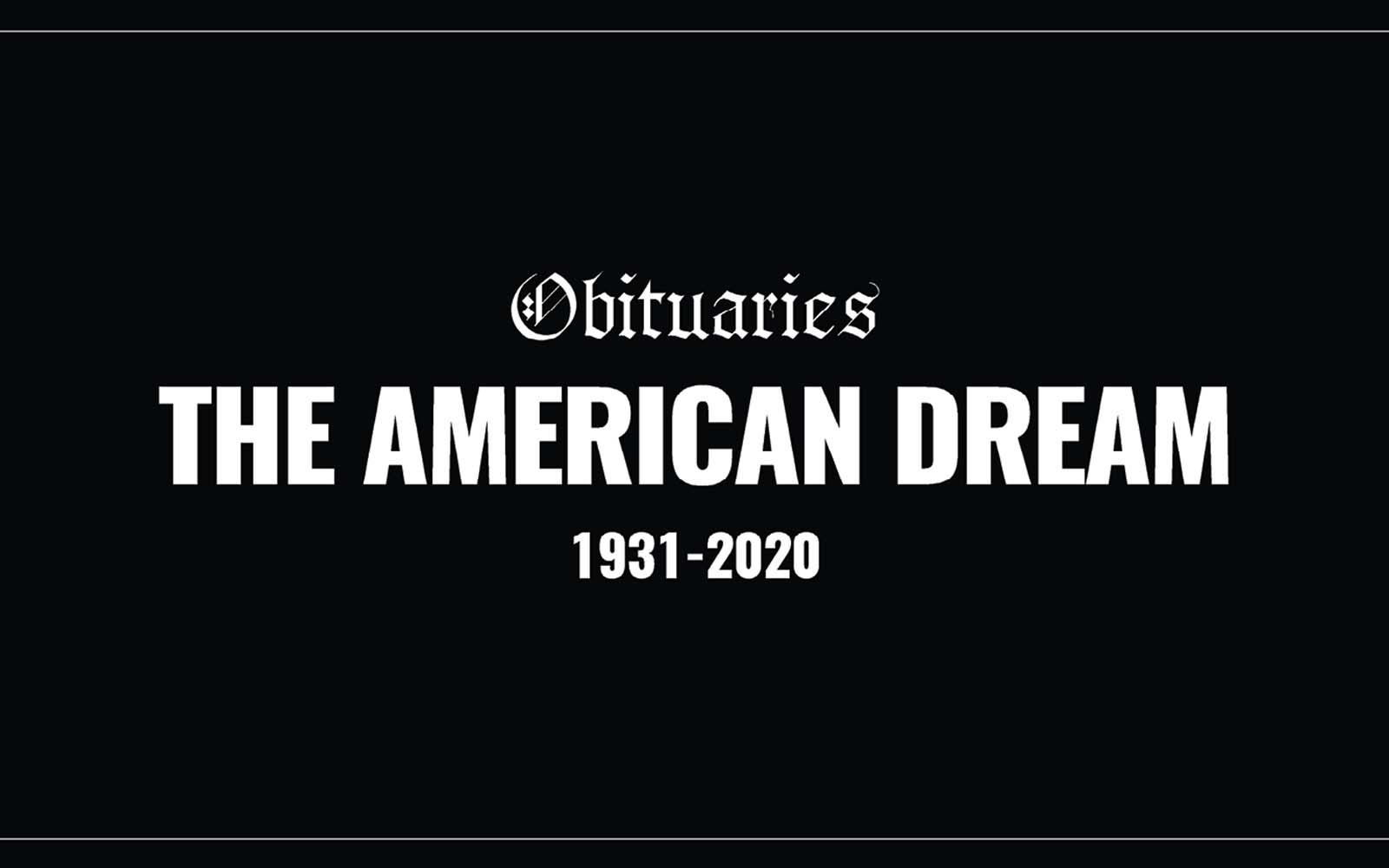 b. 1983, Santo Domingo, Dominican Republic; lives and works in Brooklyn, New York
With a background in graphic design, Lizania Cruz is a participatory artist whose research-based practice often addresses issues of cross-cultural migration and community. Launched in July 2020 as part of La Trienal's online artists' projects, her Obituaries of The American Dream invited participants "locally and globally, non-im/migrants and im/migrants" to share testimonies as to when and how the American Dream died for them. Attributing the birth of this ideal to 1931 and the publication of James Truslow Adams book, The Epic of America, the project attests to the demise of this individually based and achievement-oriented concept. This death is recounted in the stories shared by the artist and her contributors, which were first published online and later translated to news print for public distribution during this exhibition. As a collective and graphic expression, Obituaries of the American Dream expands on some of the artist's previous projects including We The News (2017–ongoing), a traveling newsstand featuring community-produced zines. For more, visit: http://obiturariesoftheamericandream.com.
Formada como diseñadora gráfica, Lizania Cruz es una artista participativa cuya práctica basada en la investigación suele abordar cuestiones de migración transcultural y de comunidades. Lanzados en julio de 2020 como parte de los proyectos de artistas en línea de La Trienal, sus Obituarios del sueño americano invitaba participantes "a nivel local y global, a los no in/migrantes y a los in/migrantes" a compartir testimonios sobre cuándo y cómo murió el sueño americano para ellos. Asignando 1931 como el año en que nació este ideal, con la publicación del libro de James Truslow Adams, The Epic of America (La épica de América), el proyecto da fe de la desaparición de este concepto individualista y orientado al éxito. Esta muerte se relata a través de las historias compartidas por la artista y sus colaboradores, las cuales se publicaron primero en línea, y luego se imprimieron en papel periódico para su distribución pública durante esta exposición. Como expresión colectiva y gráfica, Obituarios del sueño americano amplía algunos de los proyectos anteriores de la artista, como We The News (Nosotros las noticias, 2017– en curso), un quiosco itinerante que presenta fanzines producidos por la comunidad. Para más información, visite: http://obiturariesoftheamericandream.com.