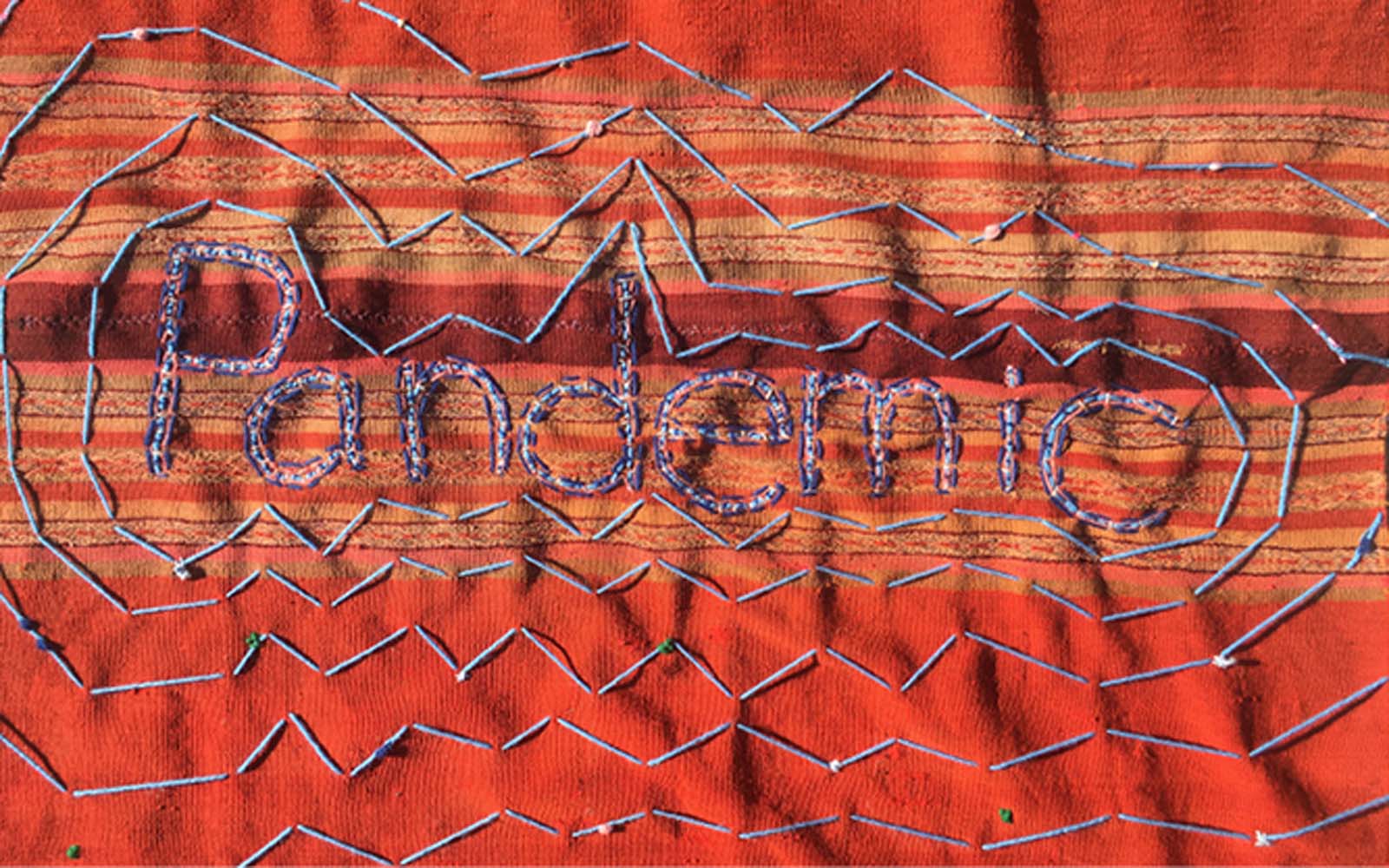 b. 1977, Lima, Peru; lives and works in St. Louis, Missouri
Juan William Chávez is an artist and activist whose multidisciplinary practice extends across painting and drawing, installation and video, as well as bee keeping and agriculture. He often works collaboratively on social-practice projects that address the environment, sustainability, and urban ecologies. Part of a larger series of installation works, Survival Blanket (Pandemic) draws upon Andean shamanic rituals by adopting the form of a mesa, an altar-like space of sacred objects used for healing. Substituting the more traditional textile for a heat-preserving, mylar survival blanket, Chávez presents a careful arrangement of both handmade and sourced weavings, mates burilados(hand-carved gourd vessels), waq'ollo knit masks, and plants and nests from his St. Louis garden. Included among these objects is a video that alternates images of bees returning to the hive during the pollination process and protests over the police shooting of Michael Brown in Ferguson, Missouri; although seemingly disparate, Chávez links these parallel events within larger collective narratives.
Juan William Chávez es un artista y activista cuya práctica multidisciplinar abarca la pintura, el dibujo, la instalación y el video, así como la apicultura y la agricultura. Chávez trabaja frecuentemente en colaboración en proyectos de práctica social que abordan el medio ambiente, la sostenibilidad y las ecologías urbanas. Parte de una serie más amplia de instalaciones, Manta de supervivencia (Pandemia) está inspirada en los rituales chamánicos andinos. Su estructura adopta la forma de una "mesa", un espacio similar a un altar con objetos sagrados utilizados para la curación. Sustituyendo los textiles tradicionales por una manta de supervivencia de mylar que preserva el calor, Chávez presenta una cuidadosa disposición de tejidos hechos a mano, "mates burilados" (vasijas de calabaza talladas a mano), máscaras de punto waq'ollo, y fragmentos de su jardín de St. Louis. Entre estos objetos, se incluye un video que alterna imágenes de abejas regresando a la colmena durante el proceso de polinización con escenas de las protestas contra el asesinato de Michael Brown en Ferguson, Missouri en el 2014. Aunque aparentemente dispares, Chávez vincula estos acontecimientos paralelos a un contexto de narrativas colectivas más amplias.