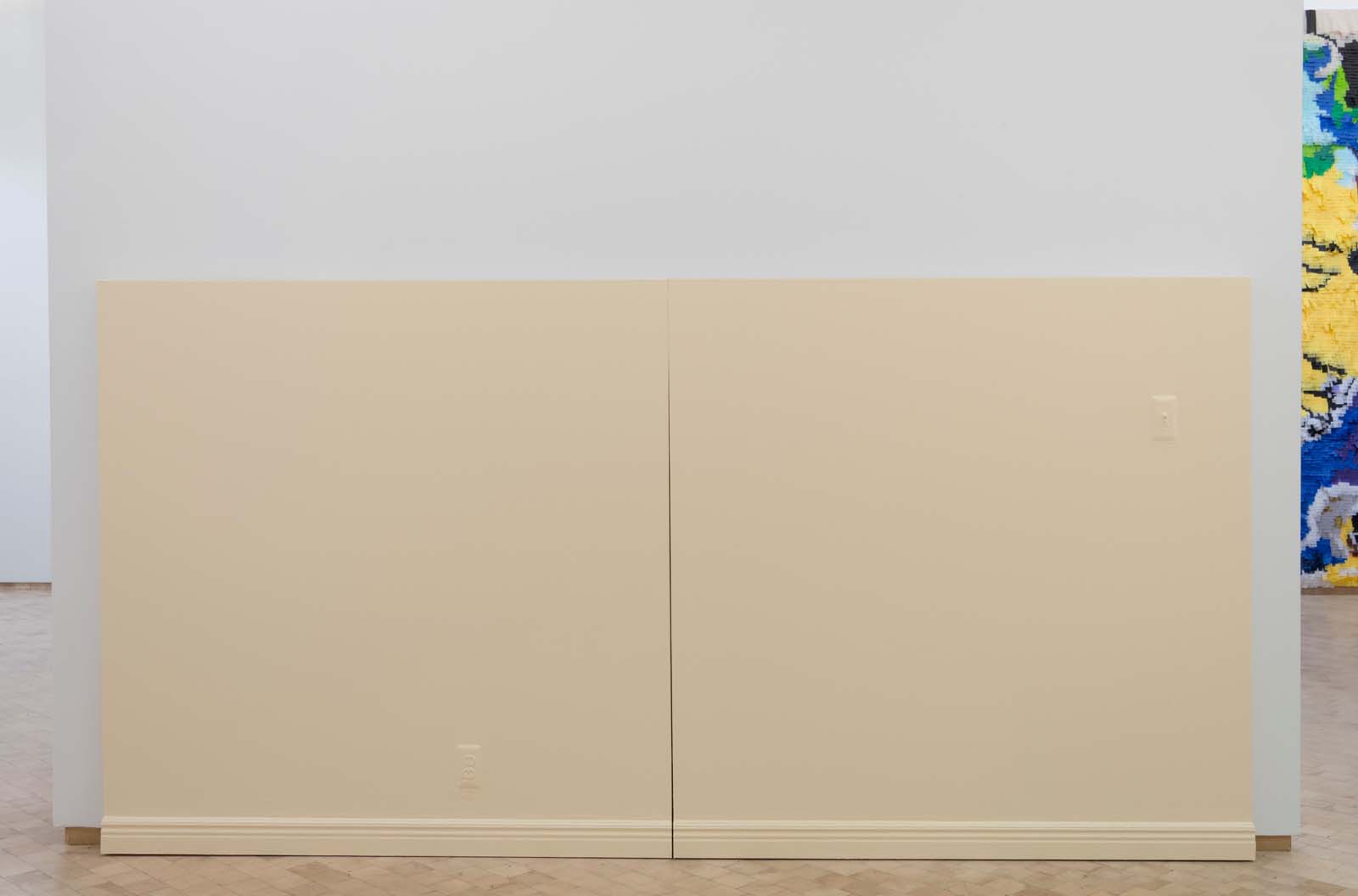 b. 1990, Brooklyn, NY; lives and works in Queens, NY
Fontaine Capel is an interdisciplinary artist who works in such diverse media as performance, installation, sculpture, and what she calls "speculative proposals." In recent years, her practice has focused on the impacts of gentrification and migration, following her family's forced move from their Brooklyn home and its subsequent conversion into luxury housing. Newly created for ESTAMOS BIEN, Wall Work draws from her on-going investigation into the layers of memory embedded within the often-overlooked details of domestic architecture. Consisting of two large-scale canvas panels, the piece represents an architectural slice of a New York City apartment, as if it were extracted from its original setting and placed within El Museo's galleries. Coating the baseboards, light switches, and electrical sockets, the wall's texture and color evoke the hasty paint job of landlords between tenants, which erases the former inhabitants' presence and makes way for the next.
Fontaine Capel es una artista interdisciplinar que trabaja con medios tan diversos como performance, instalación, escultura y las autodenominadas "propuestas especulativas." En los últimos años, su práctica se ha centrado en los impactos de la gentrificación y la migración, tras el traslado forzado de su familia de su hogar en Brooklyn y la posterior conversión del edificio en viviendas de lujo. Creada recientemente para ESTAMOS BIEN, Wall Work (Trabajo mural) se basa en su continua investigación sobre las capas de la memoria incrustadas en los detalles de la arquitectura doméstica, las cuales, amenudo, se pasan por alto. La obra, compuesta por dos paneles a gran escala, representa un fragment arquitectónico de un apartamento de Nueva York, como si hubiera sido extraído de su entorno original y colocado en las galerías de El Museo. Al cubrir los rodapiés, los interruptores de la luz y los enchufes, la textura y el color de la pared recuerda cómo los propietarios pintan apresuradamente las casas para alquilarlas a los próximos inquilinos, borrando la presencia de los antiguos habitantes y dejando paso a los siguientes.