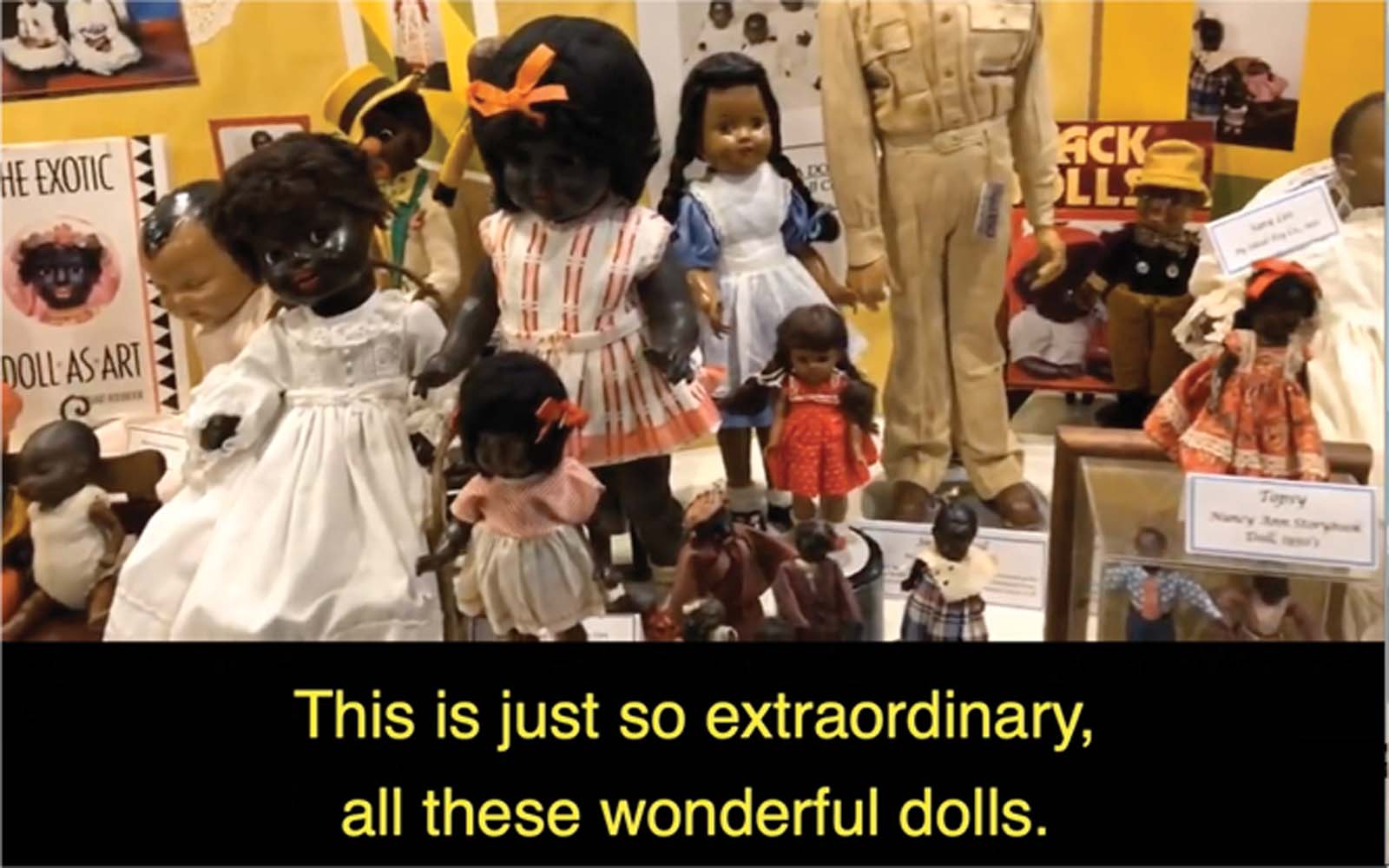 b. 1989, New York, NY; lives and works in New York, NY
Esteban Jefferson's approach to painting reflects on the presence of objects within hyper-coded systems of value, such as art museums. His long-term project Petit Palais is based on the observation of a pair of bronze sculptures found in the entrance hall of the eponymous French institution, representing unidentified Black figures invisibilized by the museum under the generic description, Bust d'un Africain (Bust of an African Man). Premiering in La Trienal, Jefferson's new painting and video were developed in parallel to Petit Palais. The canvas depicts an arrangement of objects found in the master suite in a Parisian apartment where the artist stayed during his travels,while the found video footage features an exhibition of Black dolls. The racialization of the dolls, as well as their presence in a domestic environment charged with colonial references, echoes those found in the museum. These images identify subtle manifestations of systemic racism in both private spheres and museological institutions. 
La pintura de Esteban Jefferson reflexiona sobre la presencia de objetos dentro de sistemas de valor hiper codificados como los museos de arte. Su proyecto a largo plazo, Petit Palais, parte de la observación de un par de esculturas de bronce encontradas en el vestíbulo de la institución francesa homónima, que representan figuras negras no identificadas e invisibilizadas por aquel museo bajo la descripción genérica Bust d'un Africain (Busto de un hombre africano). Estrenada en La Trienal, la nueva obra de Jefferson, que incluye una pintura y un video, se desarrolló en paralelo a Petit Palais. El lienzo describe una disposición de objetos encontrados en la suite principal de un apartamento parisino en el que el artista se alojó durante sus viajes, mientras que el video encontrado presenta una exposición de muñecas negras. La racialización de las muñecas, así como su presencia en un entorno doméstico cargado de referencias coloniales, hace eco a la situación encontrada en el museo francés. Estas imágenes identifican sutiles manifestaciones de racismo sistémico tanto en las esferas privadas, como en las instituciones museísticas.