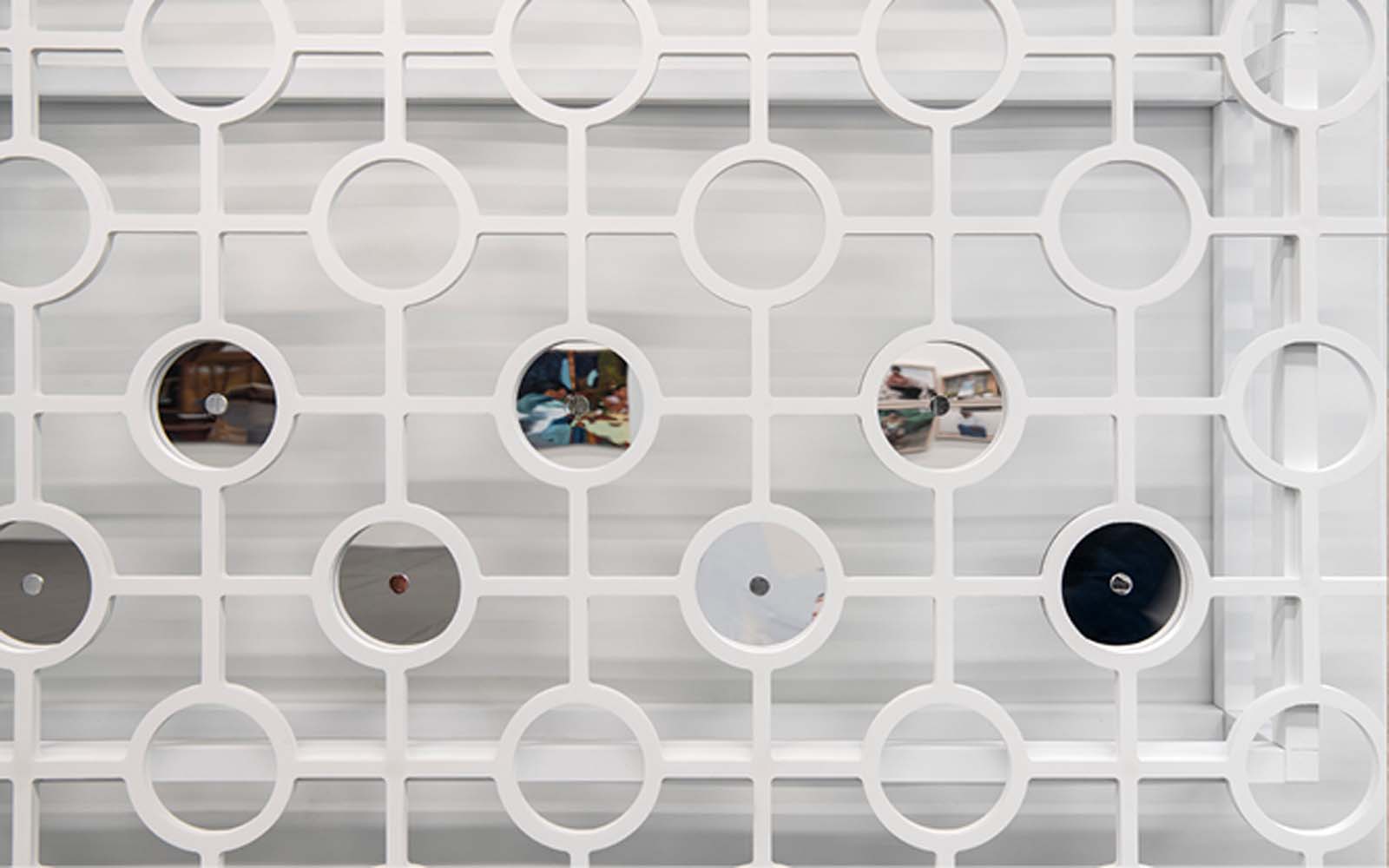 b. 1971, Santurce, Puerto Rico; lives and works in Chicago, IL
Edra Soto is an interdisciplinary artist whose practice engages her urban surroundings and often takes the form of architectural interventions. Commissioned for ESTAMOS BIEN, GRAFT is part of an ongoing project that explores vernacular architectural structures called quiebrasoles andreja commonly found in Puerto Rico and other parts of the Caribbean. Constructed to provide shade from the sun, quiebrasoles (literally, sun-breakers) are screen-like structures composed of ornamental concrete blocks, whilerejas (bars) are wrought-iron fences or window screens. Though they are both known as popular features of Puerto Rican culture and architecture, there is little recognition as to the origin of their decorative patterns, which derive from African cultures, transmitted via the transatlantic slave trade. Drawing on the multiple connotations of the word "graft," Soto's practice aims to visibilize this historical omission through installations that insert these formal elements onto new physical spaces, ranging from Chicago's Millennium Park to El Museo del Barrio's Room 110.



Edra Soto es una artista interdisciplinaria cuya práctica está asociada con su entorno urbano, y a menudo toma la forma de intervenciones arquitectónicas. Comisionado para ESTAMOS BIEN, GRAFT forma parte de un proyecto en curso que explora las estructuras vernáculas arquitectónicas de quiebrasoles y rejas comúnmente encontradas en Puerto Rico y otras partes del Caribe. Los quiebrasoles, construidos para obtener sombra y resguardarse del sol, son estructuras en forma de pantalla compuestas por bloques de concreto ornamentales, mientras que las rejas son vallas de hierro forjado o pantallas para ventanas. Aunque ambas son reconocidas como rasgos populares de la cultura y la arquitectura puertorriqueñas, se sabe poco sobre el origen de sus patrones decorativos, los cuales derivan de las culturas africanas transmitidas a través del comercio transatlántico de esclavos. Basándose en las múltiples connotaciones de la palabra "graft" (injerto, corrupción, decadencia, trabajo duro), la práctica de Soto pretende visibilizar esta omisión histórica a través de instalaciones que insertan estos elementos formales en nuevos espacios físicos, desde el Millenium Park de Chicago hasta la Sala 110 de El Museo del Barrio.