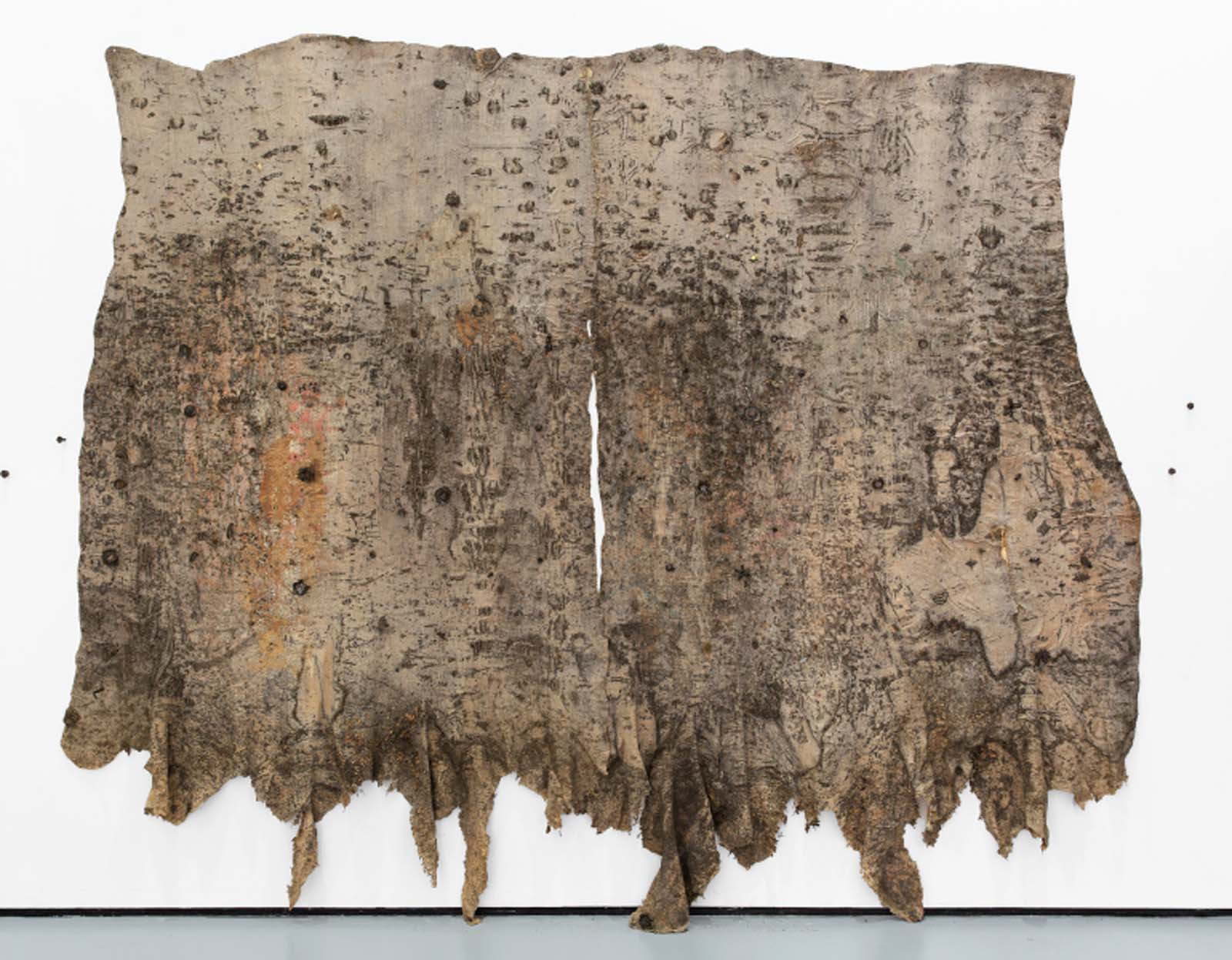 b. 1990, Los Angeles, CA; lives and works in Los Angeles, CA
Eddie R. Aparicio's works explore the formal and symbolic possibilities of a range of materials, connecting collective memories and his own cultural heritage. Referred to by the artist as "tapestries," the two works exhibited in this gallery are rubber casts from trees in the Los Angeles neighborhoods of Pico-Union and Westlake, known for the large presence of Central American immigrants, including the family of the artist. Their surfaces register the rapidly changing urban landscape through the human marks left on the trees' trunks. In a broader context, they also refer to the growing deforestation that is part of the global environmental crisis. A complex artistic genealogy can be traced around these works, starting from the very origins of the act of sculpting to create surrogates for animated creatures (like death masks), to the ancestral use of caucho (rubber) in Indigenous cultures, to the sculptural language of contemporary artists such as Giuseppe Penone, Robert Overby, and Heidi Bucher.
Las obras de Eddie R. Aparicio exploran las posibilidades formales y simbólicas de una gama de materiales diversos, conectando memorias colectivas y su propia herencia cultural. Denominados por el artista como "tapices", las dos obras exhibidas en esta galería son moldes de caucho hechos de árboles en los barrios de Pico-Union y Westlake en Los Ángeles, conocidos por la gran presencia de inmigrantes centroamericanos, así como la familia del artista. Sus superficies registran el paisaje urbano que cambiará pidamente a través de las marcas humanas dejadas en los troncos de los árboles. En un contexto más amplio, también se refieren a la creciente deforestación que es parte de la crisis ambiental global. En torno a estas obras, se puede trazar una compleja genealogía artística, desde el origen mis model acto de esculpir para crear sustitutos de criaturas animadas (como máscaras mortuorias), hasta el uso ancestral del caucho en las culturas indígenas y el lenguaje escultórico de artistas como Giuseppe Penone, Robert Overby y Heidi Bucher.