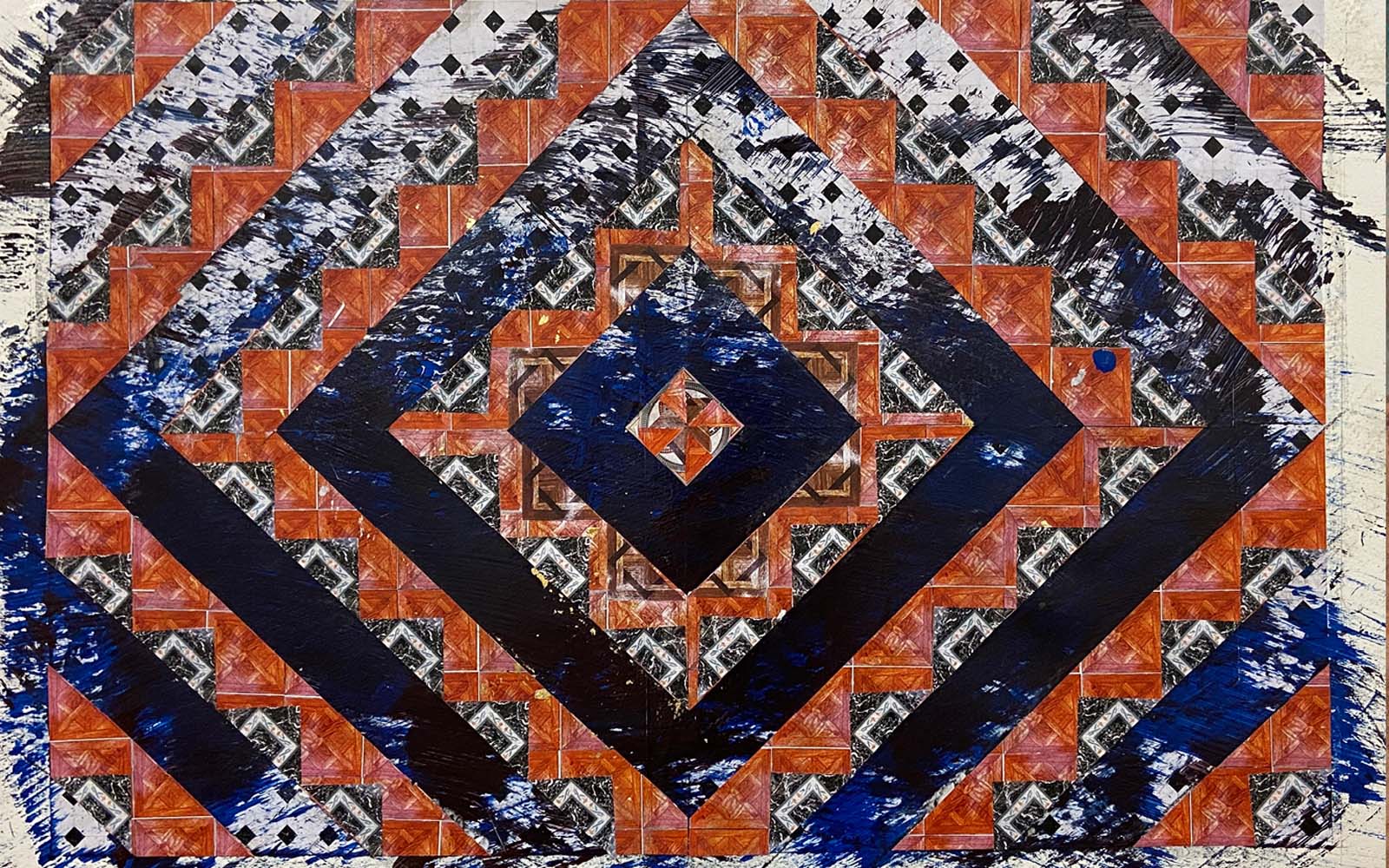 b. 1979, Harlem, NY; lives and works in Washington Heights, NY
Dionis Ortiz is an interdisciplinary artist whose practice frequently draws on spirituality, masculinity, and his Dominican American experience growing up in Harlem. Ortiz embraces an experimental approach to artmaking, and his paintings, prints, cyanotypes, and installations often explore the tension between abstraction and representation. Commissioned for La Trienal, Let There Be Light is the artist's largest floorpiece to date. The artwork is composed of vinyl floor tiling, a vernacular material found in many apartments and homes. Relatively cheap, the tiles are easy to replace or change, yet are embellished to appear like luxurious marble and wood. This simulacra approach recalls a similar technique adopted in early Cubist collages by Pablo Picasso and Georges Braque, while its architectural configuration echoes Minimalist sculptures. However, Ortiz's use of such materials and methods is more personal, as it draws on his experiences learning flooring techniques with his father.
Dionis Ortiz es un artista interdisciplinario cuya práctica se basa frecuentemente en la espiritualidad, la masculinidad y su experiencia dominicana-estadounidense tras haber crecido en Harlem. Ortiz trabaja desde un enfoque experimental, que le permite explorar la tensión entre abstracción y representación a través de sus pinturas, grabados, cianotipos e instalaciones. Comisionada para La Trienal, Que se haga la luz es la obra para suelo más grande realizada por el artista hasta la fecha. La pieza se compone de azulejos de vinilo, un material común en muchos apartamentos y casas. Relativamente baratos, los azulejos son fáciles de sustituir o cambiar, pero están ornamentados para que parezcan mármoles y maderas lujosas. Este material de simulación evoca a una técnica similar adoptada por Pablo Picasso y Georges Braque en sus primeros collages cubistas, mientras que su configuración arquitectónica se hace eco de esculturas minimalistas. Sin embargo, la aplicación de estos materiales y métodos, en el caso de Ortiz, es más personal pues está basado en las enseñanzas de su padre sobre las técnicas de pavimentación y construcción de suelos.