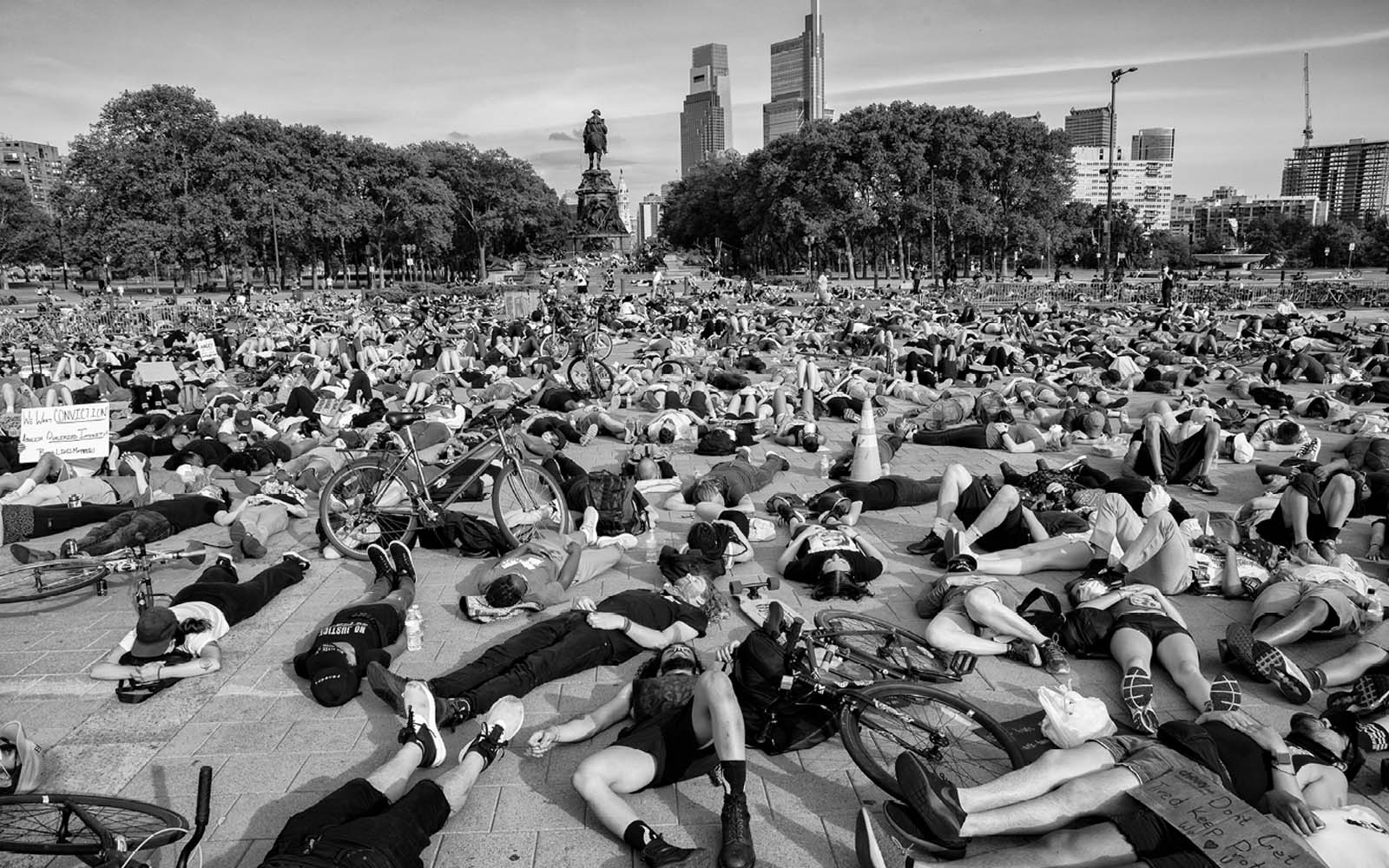 b. 1976, El Paso, TX; lives and works in Philadelphia, PA
Ada Trillo is a photographer whose work primarily focuses on issues related to race, class, and migration. She often embeds herself among the people whose image she records, joining in the grueling caravans and along "La Bestia," the dangerous train routes endured by migrants on their journeys from Central America into Mexico and the United States. Peaceful Protest is a photo from her Black Lives Matter series, taken in Philadelphia in summer 2020. The photograph records protestors during a symbolic die- or lie-in in the wake of the killings of George Floyd, Ahmaud Arbery, Breonna Taylor, among other BIPOC individuals. Captured from the perspective of the Philadelphia Museum of Art's Rocky Steps, the composition guides the eye toward Rudolf Siemering Equestrian statue of George Washington hovering over the prone bodies. With Washington's history as a slave owner part of current national debates on public monuments and the legacies that they preserve, Peaceful Protest coalesces multiple issues brought to light in 2020.


Ada Trillo es una fotógrafa cuyo trabajo se centra principalmente en cuestiones relacionadas con la raza, la clase social y la migración. A menudo, Trillo se involucra con la gente cuya imagen registra, al unirse a las agotadoras caravanas y hacer los recorridos de "La Bestia", las peligrosas rutas de tren que soportan los migrantes en sus viajes desde Centroamérica hacia México y Estados Unidos. Protesta pacíficaes una foto de su serie Black Lives Matter (Las Vidas Negras Importan), tomada en Filadelfia en el verano de 2020. La fotografía documenta a manifestantes que protestaban tendidos sobre el suelo simulando estar muertos de modo simbólico, después de los asesinatos de George Floyd, Ahmaud Arbery y Breonna Taylor, entre otros individuos BIPOC. Tomada desde la perspectiva de la escalinata Rocky del Philadelphia Museum of Art, la composición dirige la mirada hacia la estatua ecuestre de George Washington de Rudolf Siemering que se cierne sobre los cuerpos tendidos. Desde que la historia de Washington como propietario de esclavos forma parte de los actuales debates nacionales sobre los monumentos públicos y los legados que estos preservan, Protesta pacífica reúne múltiples temas puestos en relieve en 2020.