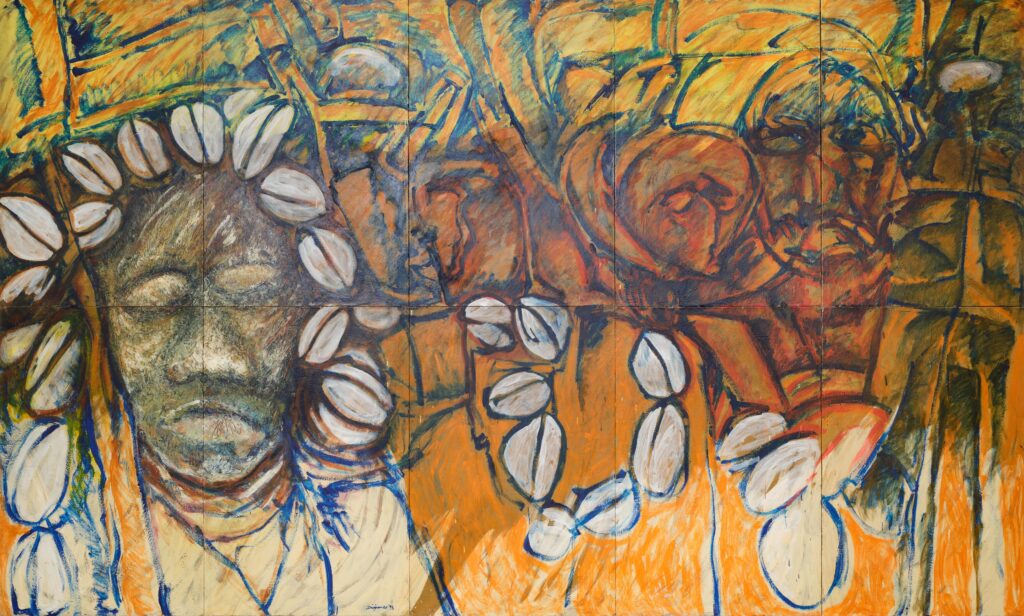 Something Beautiful: Reframing La Colección is El Museo del Barrio's most ambitious presentation of its unique, complex, and culturally diverse permanent collection in over two decades. Organized by Rodrigo Moura, Chief Curator; Susanna V. Temkin, Curator; and Lee Sessions, Permanent Collection Associate Curator, the exhibition will present approximately 500 artworks, including new acquisitions and artist commissions, through rotating displays over the course of one year. Something Beautiful cuts across traditional chronological, geographic, and media-specific categories, reconsidering the Collection through new interdisciplinary approaches rooted in El Museo del Barrio's foundational history and legacy. This forward-thinking model focuses on the contribution of Amerindian, African, and European cultures as the basis of visual production in the Americas and the Caribbean.
The second rotation of Something Beautiful: Reframing La Colección is organized in nine sections plus four artist spotlights. Themes and motifs reappear across sections to create a larger conversation throughout the exhibition. Sections include: Afro-diasporic Modernities bringing together artists working in the African diaspora in the Americas and centers spiritual and religious practices such as Candomblé, Umbanda, Vodou, and Santería; Figureheads explores the use of political iconography as a key visual strategy in artistic languages and political movements throughout the Americas, and especially in advocacy for Puerto Rican independence; Material Construction showcases artists' use of unconventional materials sourced from the street that speak to conditions of precarity, innovation, and autonomy in urban life; Así es la Vida borrows its title from the hit anthem by Boricua rap duo The Latin Empire, celebrating the contributions of Puerto Rican and Latinx artists to New York's urban culture and street art; Colors, Names contends with troubling histories of classifying individuals based on the color of their skin and ethnic background and how this history continues to impact our perception of race today; Tropical Extraction examines natural resource extraction in Latin America and the Caribbean, and illustrates how landscape, still-life, and other traditional artistic genres historically naturalized the commodification of the region for foreign consumption; Arpilleras explores embroidered fabric artworks created under military dictatorship in Chile and how this textile-based tradition came to symbolize resistance to political oppression; Craft Crossroads displays works by artists who employ a wide range of craft techniques to challenge hierarchies and emphasize the importance of materials and techniques previously overlooked by the mainstream art world; and Ocama Aracoel, translating as a call to the ancestors in the Taíno language, remains on view from the first rotation of the exhibition. It emphasizes the core importance of Taíno culture for El Museo by pairing ancestral Taíno forms from the Caribbean with artwork by Nuyorican artists. In early 2024, this section will be supplemented with a new artist commission, entitled Guatu Nakan ("In the middle of the fire"), by Jorge González (b. 1981, San Juan, Puerto Rico; lives in San Juan) and a network of collaborators. See list of participating artists.
Artist spotlights will feature the works of Edgardo Giménez (b. 1942, Santa Fe, Argentina; lives in Buenos Aires, Argentina), who advanced Pop Art in Argentina during the 1960s and 1970s through his posters and design store Fuera de Caja [Out of the Box]; Sophie Rivera (b. 1938, The Bronx, NY – 2021, The Bronx) who traversed New York City's boroughs taking photographs of its people and places, including nearly abstract images of the city and its debris; Pepón Osorio (b. 1955, Santurce, Puerto Rico; lives in Philadelphia, PA) featuring La cama, an installation that typifies the artist's aesthetics of excess and references cultural rituals and the dynamics of public and private spaces that are of special significance to his fellow Puerto Ricans; and Jaime Davidovich (b. 1936, Buenos Aires, Argentina – 2016, New York, NY), whose work encompasses the many strategies the artist developed as a member of New York's downtown experimental art scene who including his early adoption of public access TV as a venue for avant-garde performance.

Currently on view Glendalys Medina (b. 1979 Ponce, Puerto Rico) was commissioned to create a new artwork reflecting and responding to Something Beautiful. Composed of a sculpture and new site-specific intervention, Medina's Cohoba invites viewers into the cohoba ceremony, the spiritual center of Taíno life. As a diasporic Nuyorican artist based in East Harlem, Medina has repeatedly returned to how knowledge is transmitted and remixed and how social structures can empower individuals.

On the occasion of Something Beautiful, an accompanying publication drawing from the contributions of 45 invited speakers introduces new expertise about the Collection and its future. Published as a dialogic mosaic, the publication includes excerpted reflections about El Museo's role in institutional ecosystems. Select contributors include: Beverly Adams, Cecilia Fajardo-Hill, Marcela Guerrero, Gala Porras-Kim, Yasmin Ramírez, Taína Travierso, Adriana Zavala, and Julian Zugazagoitia, among others.

Something Beautiful: Reframing La Coleccion is made possible by the Terra Foundation for American Art and The Jacques and Natasha Gelman Foundation, with additional support provided by Tony Bechara. Public support provided by the New York City Department of Cultural Affairs. Additional Permanent Collection funding provided by The Mellon Foundation and The Getty Foundation.