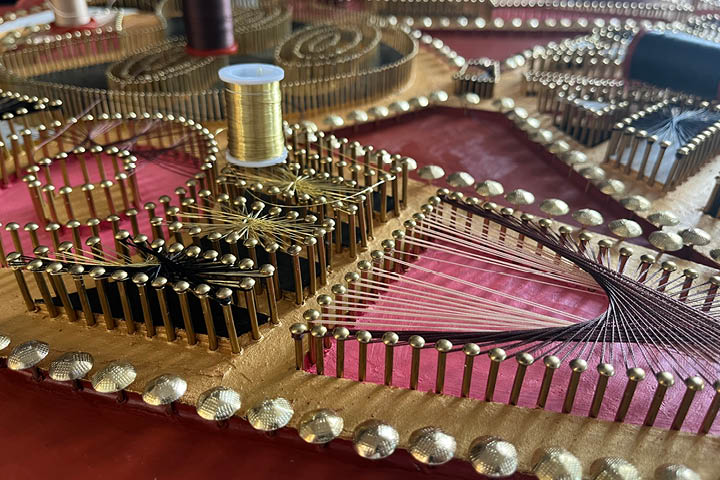 Glendalys Medina, Atabey, 2023. Process image. Courtesy of the Artist, New York.
In this new site-specific commission for Something Beautiful: Reframing La Colección, Glendalys Medina invites us into a space that invokes the cohoba ceremony, the spiritual center of Taíno community life. Visitors enter using door handles that reference kuisa (ritual purification implements), pass the tree that produces the ceremonial hallucinogen, and enter a cave lined with images of the cohoba deity. There, they encounter a sculpture of the ancestral mother Atabey, constructed using hammered nails that recall central African nkisi nkondi figures and that are arranged into shapes inspired by the beatboxes of NYC streets.
As a diasporic Nuyorican artist, Medina has repeatedly returned to how knowledge is transmitted and remixed and how social structures can empower individuals. The cohoba ceremony, generally performed by religious and political leaders, is structured around personal relationships and societal roles and enables access into the spiritual realm.
Glendalys Medina is the recipient of a Pollock-Krasner Foundation Grant, a Jerome Hill Foundation Fellowship, an Ace Hotel New York City Artist Residency, a SIP fellowship at EFA Robert Blackburn Printmaking Workshop, a BACK IN FIVE MINUTES artist residency at El Museo del Barrio, a residency at Yaddo, the Rome Prize in Visual Arts, a New York Foundation for the Arts Fellowship in Interdisciplinary Art, and the Bronx Museum Artist in the Marketplace residency. Medina has presented artwork at such venues as PAMM, Participant Inc., Performa 19, Artists Space, The Bronx Museum of Art, El Museo del Barrio, The Museum of Contemporary Art in Vigo, Spain, and The Studio Museum in Harlem. Medina received an MFA from Hunter College and is currently a professor at SVA's MFA Art Practice program.