UPTOWN BOUNCE: Ballroom Bounce
August 14, 2019 @ 6:00 pm

-

9:00 pm

EDT

FREE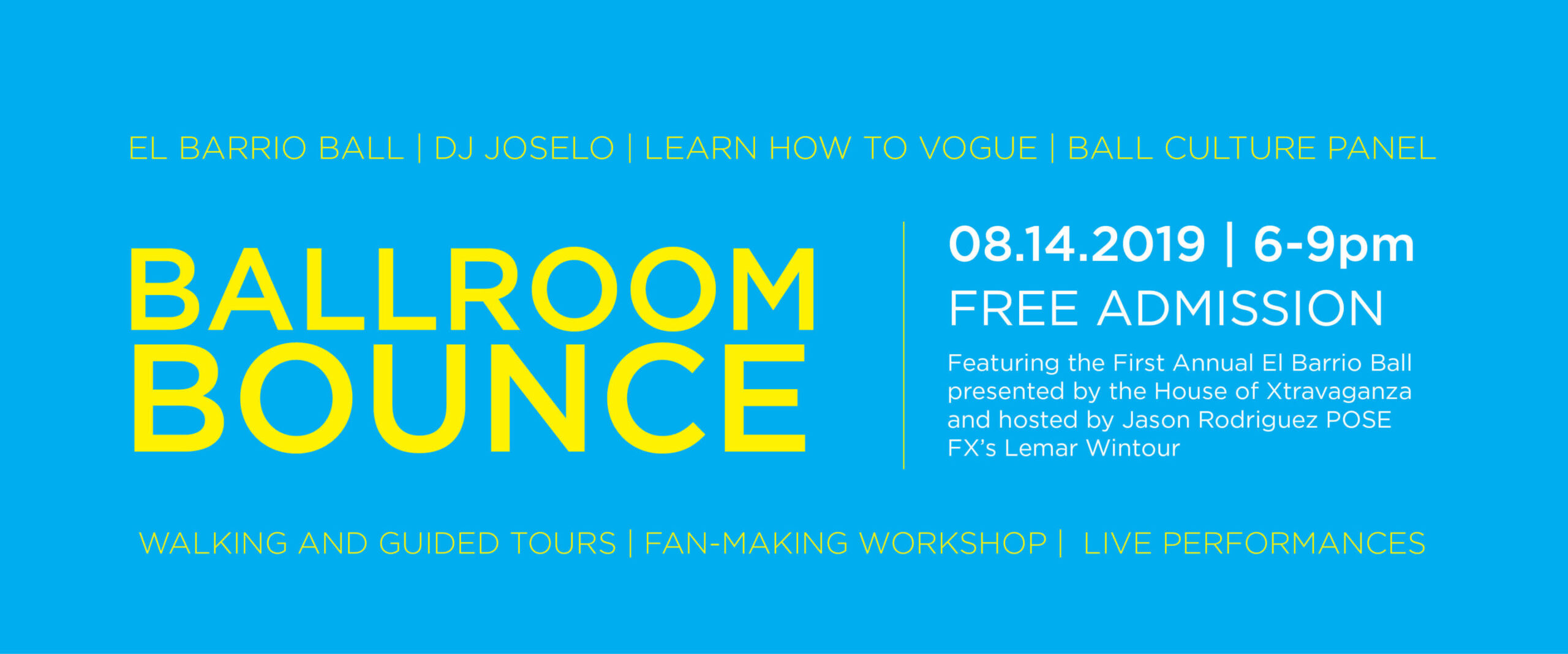 El Museo del Barrio showcases New York City's ball scene and how it positively impacted our Latinx community. With a Panel Discussion hosted by House of Xtravaganza; a Voguing Performance by House of Eon; and a Family Voguing Workshop & a Mini Ball hosted by Slim Xtravaganza. El Museo del Barrio nos muestra la escena "Ballroom" de la ciudad de Nueva York y cómo impactó positivamente en nuestra comunidad latina. Con un panel de conversación organizado por House of Xtravaganza; una performance de "Voguing" por House of Eon; y un Taller de "Vogue" para toda la familia y un Mini Ball organizado por Slim Xtravaganza.
 This event is supported by TD Bank.
FREE ADMISSION | TO, RSVP click here.
—
SCHEDULE OF EVENTS
Exhibition | Exhibición
CULTURE AND THE PEOPLE: El Museo del Barrio, 1969-2019
6:00 – 9:00pm, Las Galerías
In celebration of our 50th anniversary, Culture and the People: El Museo del Barrio, 1969-2019 reflects on the institution's activist origins and role as a cultural and educational organization dedicated to Puerto Rican, Latinx and Latin American art and culture. The two-part exhibition features selections from the Permanent Collection, and an institutional timeline, including rare archival materials. Both parts are on view through September 29. En el marco de la celebración de nuestro 50 aniversario la exhibición dividida en dos partes, Culture and the People: El Museo del Barrio, 1969-2019, refleja los orígenes activistas de la institución y el rol como una organización cultural y educacional dedicada al arte y la cultura Puertorriqueña, Latina, y Latinoamericana. La exhibición destaca una selección de la Colección Permanente, y una cronología institucional, incluyendo materiales de archivo. Ambas partes estarán abiertas hasta el 29 de septiembre.
Guided Tour | Tour Guiado
Culture and the People: El Museo del Barrio, 1969-2019
7:30 – 7:50pm, Las Galerías
Join us for a guided tour of our 50th anniversary exhibition led by our Curator Susanna Temkin. Únase a nosotros para una visita guiada de la exposición del 50 aniversario de El Museo del Barrio dirigida por nuestra curadora Susanna Temkin.
Walking Tour | Tour a pie
Mapping Resistance: The Young Lords in El Barrio
6:00 – 6:45pm, El Barrio
As part of El Museo del Barrio's partnership with artist Miguel Luciano, the museum is delighted to offer a free walking tour of his public art project featuring the work of Hiram Maristany, the official photographer of the Young Lords Party. The tour will highlight the works on view on 111th Street, between Madison Avenue and 3rd Avenue, and will require walking to site. Tour will be in English and will meet in El Museo's Lobby. Como parte de la asociación de El Museo del Barrio con el artista Miguel Luciano, el museo se complace en ofrecer un recorrido a pie de su proyecto de arte público con la obra de Hiram Maristany, el fotógrafo oficial del partido de los Young Lords. El recorrido resaltará las obras exhibidas en la Calle 111, entre las Avenidas Madison y Tercera, y requerirá caminar hasta el sitio. El tour será en inglés, y el punto de encuentro será el vestíbulo de El Museo del Barrio.
Movement Workshop | Taller de Movimiento
Family Voguing Workshop with "Lemar" from POSE FX
6:15 – 7:00pm, El Café
Hosted by Slim Xtravaganza from the hit show POSE FX, join us for a family-friendly vogue workshop! Learn how to express yourself and boost your confidence through the power of movement. Open to all ages. Organizado por Slim Xtravaganza de la exitosa serie POSE FX, ¡únete a nosotros para un taller de vogue para toda la familia! Aprenda cómo expresarse y aumentar tu confianza a través del poder del movimiento. Abierto a todas las edades.
Panel Conversation | Panel de Conversación
Ball Culture
7:00 – 7:50pm, El Teatro
Explore the importance and significance of Ball Culture through this panel discussion about Ballroom, House Families, and the influence of Latinx Culture, organized by  House of Xtravaganza. Explore la importancia y el significado del "Ball Culture" a través de este panel de conversación sobre la escena Ballroom, el Sistema de Casas ('House Families') y su influencia en la Cultura Latinx, organizado por House of Xtravaganza. 
Performance | Espectáculo
"Grace and Pride" Performance by House of Eon
7:50 – 8:00pm, El Teatro
The House of Eon, a vogue performance house recently launched created and led by Jason Rodriguez (a.k.a. Slim Xtravaganza) presents a special showcase blending classic and new wave vogue with contemporary dance. The House of Eon, una compañía (o "casa") de performance "vogue" recientemente lanzada, creada y dirigida por Jason Rodríguez (también conocido como Slim Xtravaganza), presenta una performance especial que combina el "vogue" clásico y las nuevas tendencias de la danza contemporánea.
Music | Música
DJ JoseLo
8:00 – 9:00 pm, El Café
Puerto Rican, New York based visual artist, DJ and night life producer, DJ JoseLo, will get the voguers and crowd pumping during our first annual El Barrio Ball! In 2014, JoseLo created the event Maricón, an event focused on showcasing qtpoc DJs and creatives, while also merging the Tri-boro scenes into a celebration of collective identity. DJ Joselo, artista visual, DJ y productor de eventos puertorriqueño con sede en Nueva York, hará que los voguers y la multitud se exalten durante nuestro primer El Barrio Ball anual. En 2014, Joselo creó el evento Maricón, centrado en mostrar DJs y creativos 'qtpoc', al tiempo que fusiona las escenas de los tres 'boroughs' en una celebración de identidad colectiva.
Performance | Espectáculo
El Barrio Ball
8:15 – 9:00 pm, El Café
Ball cultures comes to El Barrio! Join us for the first-ever El Barrio Ball with special guest appearances from some of the scene's most celebrated voguers in the categories of "Runway," "Face," "Arms Control," and "Vogue." Dashaun Wesley, also known as Shadow Winter from POSE FX, will be the official commentator of the mini Ball. Visitors are welcome to participate and enter to win an official El Barrio Ball prize. ¡La escena 'Ball Culture' llega a El Barrio! Únase a nosotros para el primer El Barrio Ball con participaciones especiales de algunos de los voguers más célebres de esta escena en las categorías de "Runway", "Face," "Arms Control" y "Vogue". "King of Vogue", Dashaun Wesley, también conocido como Shadow Winter de la serie POSE FX, será el comentador oficial del mini Ball. Los visitantes están invitados a participar y concursar para ganar un premio oficial de El Barrio Ball.
Art-Making Workshop | Taller de Arte
Lets Have Fan
6:00 – 8:00 pm, Lobby
Unconventional fashion and accessories have always been essential to the Queer Community's expression of revolutionary joy, existence and resilience! What does having pride in yourself, your community, and your history look like for you? In celebration of the 50th anniversary of the Stonewall Riots, El Museo del Barrio presents a special Fan Creation workshop and invites participants to create their own personal fans using words, colors and inspiration from iconic queer Latinx icons. Use these fans to stunt on fam, the 'gram, or simply to keep yourself as cool as you can during the night! La moda y accesorios poco convencionales siempre han sido esenciales para la expresión de alegría, existencia y resistencia revolucionarias de la comunidad Queer. Para ti, ¿cómo se siente el tener orgullo en ti mismo, tu comunidad y tu historia? En el marco del cincuenta aniversario de las protestas de Stonewall, El Museo del Barrio presenta un taller artístico especial de abanicos, e invita a los participantes a crear su propio abanico utilizando palabras, colores e inspiración de íconos queer Latinxs. ¡Usa estos abanicos para representar a tu comunidad, compartir en las redes o simplemente para mantenerte fresco durante la noche!
ABOUT UPTOWN BOUNCE
El Museo del Barrio y Museum of the City of New York están entusiasmados por la sexta edición de Uptown Bounce: Summer Nights @ 104 & Fifth, una serie conjunta GRATUITA con presentaciones musicales, conversaciones en galerías, talleres de arte, DJ reconocidos, bebidas de verano, vendedores de comida locales y mucho más.
ABOUT HOUSE OF XTRAVAGANZA
Founded in NYC in 1982, the House of Xtravaganza is the most publicly recognized "house" to emerge from the New York City underground ballroom scene and among the longest continually active. Started as the first Latinx ballroom house, in response to what was a nearly exclusive African American LGBTQ subculture, the House of Xtravaganza would ultimately come to include members of every ethnicity, although it has remained true to its roots as a primarily Latino ballroom house. House of Xtravaganza members and the collective group are recognized for their cultural influence in the areas of dance, music, visual arts, nightlife, fashion, community activism and helping to build a worldwide awareness and appreciation of the LGBTQ+ ballroom culture. Fundada en Nueva York en 1982, House of Xtravaganza es la "casa" más reconocida públicamente que surgió de la escena de los salones de baile underground en la ciudad de Nueva York, y una de las más activas desde sus inicios. Comenzó como la primera casa de baile Latinx, en respuesta a lo que era una subcultura LGBTQ casi exclusivamente afroamericana, House of Xtravaganza finalmente incluiría a miembros de todas las etnias, aunque se ha mantenido fiel a sus raíces como una casa de baile principalmente latinx. Los miembros de House of Xtravaganzay el grupo colectivo son reconocidos por su influencia cultural en la danza, música, artes visuales, vida nocturna, moda, activismo comunitario, y en la labor de crear conciencia y apreciación de la cultura del salón LGBTQ+ en todo el mundo.
ABOUT HOUSE OF EON
House of Eon is a performance house focused on bringing vogue into communities around the world. It creates access for young POC LGBTQ individuals looking for guidance in achieving their goals. House of Eon unifies members of the Ballroom Scene and tells untold stories through dance.